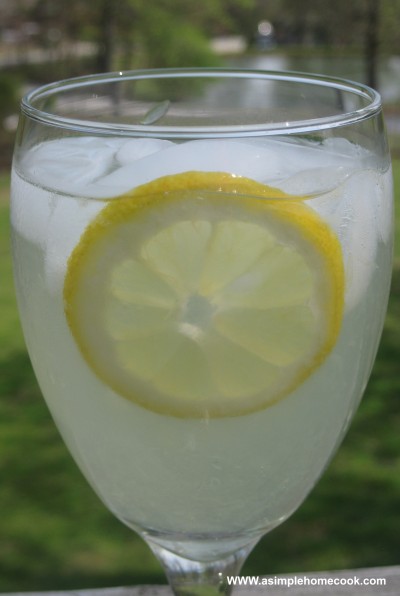 Although it is still spring, it is a HOT day here. I decided to make some fresh squeezed lemonade for my family as a treat after working in the yard.
This is not a family recipe that I am passing on.  My father used to only want the frozen kind of lemonade, so my mom did not make it fresh lemonade often. Although when she did, my mom's fresh lemonade used to be "crunchy" with undissolved sugar at times. So…I thought I would share how I make it without the "crunch."
Recipe: Fresh Lemonade
Ingredients
1 c. fresh squeezed lemon juice
2 c. boiling water
2 c. sugar
6 c. cold water
2 lemons, sliced thin
Instructions
Place sugar and boiling water in a large measuring cup/batter bowl.
Stir until sugar is dissolved. (You'll have a simple syrup).
Add lemon juice to large pitcher.
Add enough water to fill pitcher.
Add 2 cups of simple syrup to pitcher and stir.
Taste.
Add additional syrup, if needed,1/4 to 1/2 cup at a time until desired sweetness is achieved. (I use about 3 cups of syrup per gallon of lemonade–my daughter likes it sweet).
Add lemon slices and ice to pitcher, if desired.
Notes:
The type and sourness of the lemons you use will influence how much sugar along with your personal taste.
Meyer lemons will require less simple syrup.