I can't remember many gatherings in the early 1990's where someone didn't bring or make a fresh vegetable pizza as an appetizer or finger food.  They were even available to purchase already made in my local grocery store.  I also can't believe that my husband claims to never have heard of it.  Thus, I had to make one to try and jog his memory  (even though his dairy allergy prevented him from trying it).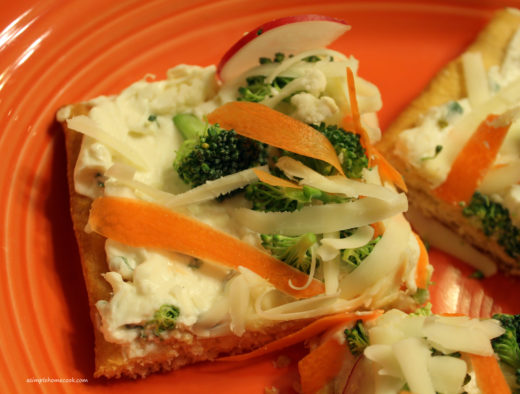 Fresh vegetable pizzas are so easy to make and so versatile that I wondered why I ever stopped making them.  In my defense, I know that they are easier to make today than they were in the early 90's because you can now purchase sheets of crescent roll dough instead of having to stick triangle shaped rolls together. 🙂
My top reasons for liking fresh vegetable pizza are:  it travels well for potlucks; it does well at room temperature as finger food at a party; several of its ingredients can be substituted for things you have on hand or prefer; and it tastes great.
Ingredients
2 tubes crescent roll dough or crescent rolls (You can use just one roll and spread the cream cheese mixture thicker, but you probably will have left over mixture. You will need fewer vegetables if you use just one tube).
8 oz. cream cheese, softened
1 c. mayo (can use sour cream instead)
1/2 tsp. garlic powder
1 tsp. minced dried onions or 1/2 tsp. onion powder
1 Tbsp. fresh dill weed (dried can be substituted)
1 Tbsp. fresh parsley (dried can be substituted)
3/4 c. broccoli, finely chopped
1/2 c. carrots, peeled and grated
1/4 c. green onions, sliced
1/4 c. radishes, sliced
1 c, cauliflower, finely chopped
1 c. cheddar or similar cheese, shredded
Instructions
Preheat oven to 375 degrees F.
Unroll crescent rolls and spread on a rimmed baking sheet. If using individual rolls, press seams together.
Bake for 8 to 10 minutes until golden brown.
Set aside to cool on a rack.
Beat cream cheese, mayonnaise, garlic, onion, parsley, and dill together.
Spread cream cheese mixture over the completely cooled crust.
Spread vegetables evenly over the crust while gently pressing them into the cream cheese mixture.
Top with the shredded cheese.
Place in refrigerator until ready to serve.
Cut into desired sized squares to serve.
Notes
The dried onion, garlic, parsley, and dill can be omitted and a package of Hidden Valley Ranch seasoning mix used instead.
https://www.asimplehomecook.com/fresh-vegetable-pizza/
2017