Fried corn is a dish that had to of originate in the southeastern United States. I do not remember having corn prepared this way until after moving to Georgia. It is fresh, sweet, simple, and delicious.
It should not be confused with fried corn-on-the-cob, which is husked and cleaned corn cooked in a deep fryer until golden and found at many barbecue joints when corn is in season. Although, it is also delicious.
Essentially, it is creamed corn cooked in a skillet and simply seasoned. It can be found occasionally at old-school southern restaurants like Mt. Vernon in Chattanooga, TN.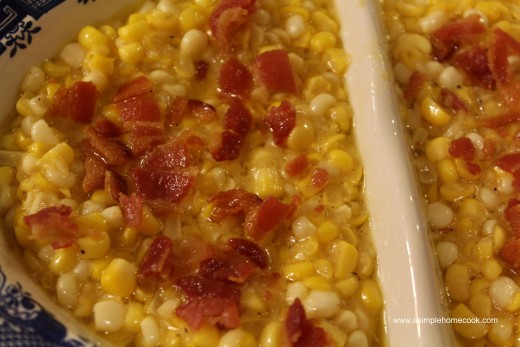 One of my friends makes a version using a frozen chub of fried corn. It is simple and tasty. However, I found this recipe in The Blue Willow Inn Cookbook using fresh corn and bacon that quickly became my favorite.
The only made minor changes to the recipe including cutting it in half to serve my family of three and reduce the amount of bacon even further.
Here is how I make it: