I read that this past weekend was the West Virginia Hot Dog Festival in Huntington, West Virginia. So, I thought it was a great time to talk about one of Huntington's iconic places to buy a hot dog and a root beer, Frostop Drive-In.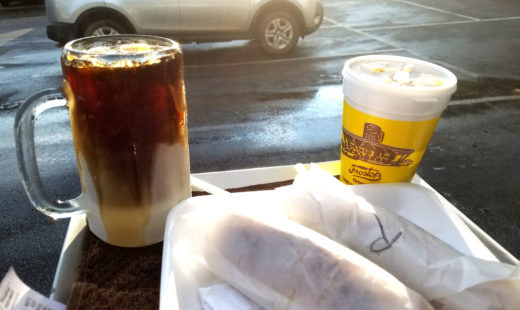 Frostop Drive-Ins have been around since the 1920's. Their number peaked in the 1960's with over 350 locations, according to the Frostop website. Today, there are only a dozen Frostop Drive-Ins left. Luckily, Huntington has one of those remaining locations.
As at most drive-ins that still have car hops and trays to attach your food to your vehicle, I feel transported back in time and get nostalgic about bygone days…of my childhood. I can't say that I get too nostalgic about the Frostop in Huntington specifically because, despite living there for six years, I think I only went to Frostop maybe three times. No, I can't believe it either.
They still serve their root beer in frosted mugs, which is the best way to drink root beer. They also still wrap their hot dogs in paper, which is how my nostalgic side love them. I can't speak to how anything else is made or served because I have only ever ordered hot dogs and root beer at Frostop.
I enjoyed my hot dog with ketchup and slaw. I also loved the root beer. My husband was not as impressed; he prefers Stewart's.  I know several people who say that they think Frostop's hot dogs are the best in Huntington. Which one is really better?  I depends on who you ask and that is the way it should be.
It is definitely worth a stop especially if you are near Hal Greer Blvd. in Huntington. It is also easy to get to from Interstate 64. Just look for the large mug of root beer on top of the building.