When we would take my maternal grandmother to visit her sister-in-law, my great aunt would always have these cookies and give me one. I loved them.
To this day, I am not sure how she was able to make her big version of these cookies considering she was legally blind. However, she made the best ones I ever tasted.
They were the first cookies I ever made on my own. In fact, they used to be my go-to sweet. My mom's recipe never tasted like her aunt's, but it did improve when we figured she put black walnut flavoring in the cookie along with the vanilla.
Sadly, my mom's recipe is missing from my collection. So, I adapted one by Alice Wise in the Pomeroy Health Care Center Cookbook.
One of the many changes I made was to add maple syrup to offset all the processed sugar and add a maple flavor.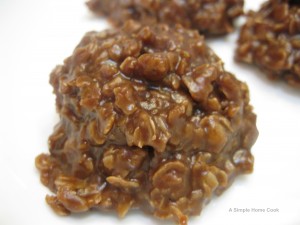 Recipe: Fudgy No Bake Oatmeal Cookies
Ingredients
1 stick margarine
3 1/2 c. fine sugar
6 Tbsp. cocoa powder
3/4 c. evaporated milk
1/2 c. maple syrup
1 Tbsp.vanilla
1 c. peanut butter
5 c. quick oats
Instructions
Place margarine,sugar, cocoa, milk, and maple syrup in a pot on stove on medium heat.
Stir frequently until mixture boils.
Stir constantly once mixture boils.  Boil for two minutes.
Turn off burner and add vanilla and peanut butter.
Remove from stove and add oatmeal. Mix well.
Drop by tablespoons or scoops onto waxed paper.
Allow to cool completely.
Quick Notes
I prefer Grade B maple syrup for more robust maple flavor.
Variations
Use one cup of milk instead of 3/4 cup plus use 4 cups sugar instead of 3 1/2 cups and omit maple syrup.
Use black walnut extract or almond extract instead of half or all of vanilla.