The third installment of Hot Dog Stand Week at A Simple Home Cook moves from West Virginia to Tennessee.
A Good Dog is located in the North Shore of Chattanooga, Tennessee near Coolidge Park. Unlike the other hot dog stands I featured, this is more of a restaurant than a hot dog stand. It is in a funky decorated, narrow store with the prep/ cash register area on one side, and tables on the other side along the wall.

The tables have holes in them to hold your order of frites (fries). The fries are very crispy (just the way I like them).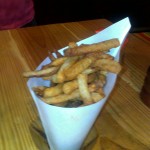 The hot dogs are also different than those featured before as well. They offer either beef or veggie dogs. The hot dogs are cooked on the grill and show the typical dark brown spots of a fried hot dog. They snap when you bite into them.
The have a large variety of toppings including standard hot dog stand items like chili, ketchup, mustard, slaw, onions, etc.

They also have a large variety of other toppings that you would normally only find in at regional hot dog stands if you found them at a hot dog stand at all.
You can order either the beef or veggie with with your choice of toppings and pay per topping or as a named combination off of the menu. They have a Chicago dog, a New York Dirty Water dog, a Dutch Frites dog, a Fred dog, a Pimento Cheese dog, and many more.

Every thing tastes fresh. The pimento cheese is "home made." They even made their own sauces.
They have a huge selection of condiments in a condiment section ranging from curry ketchup, to frite sauce to A-1 sauce and many others.
These hot dogs do have a larger price tag than a lot of other hot dogs, but they are very different. Besides, one loaded hot dog is a full meal for me.
If you are in the Chattanooga area, it is worth checking out.
Disclosure: These are just my personal opinions and experiences. I was not solicited or compensated in any way to write this article.