In my mom's recipe box, I found a recipe in my paternal grandmother's handwriting for banana cake. I can't say I remember either my mom or my grandmother making a banana cake, but I decided I wanted to give it a try.
My daughter wanted caramel icing for her birthday, so I suggested we try it on banana cake. My grandmother's banana cake recipe included instructions for an icing, but I thought we'd be wild and do something different.
I mixed up the cake…I would say following my grandmother's directions, but really the recipe was just a list of ingredients followed by "bake in a sheet pan for about 30 minutes." I poured the batter into a greased and floured old, cheap, dark, and thin metal pan that I do not normally use for cakes. The result was a cake that cooked and browned too fast on the sides and did not rise enough, especially in the middle, despite baking it at 325 degrees to try to accommodate for the pan.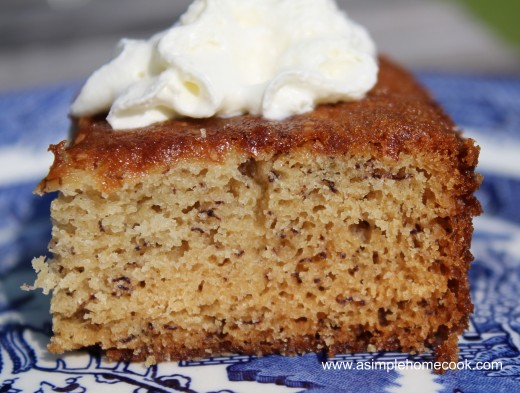 It tasted great, but I wasn't going to serve a cake with a sunken middle for my daughter birthday. Thus, I made another…in a glass baking dish (it cooked evenly and browned nicely) and we ate the first one, our test run, without icing.
My husband and daughter both commented that it tasted like banana bread. I am not sure what they thought it was going to taste like, but it is very similar to banana bread…only lighter. It is moist and tasty enough that it was really good plain, but is equally good with whipped cream, my grandmother's icing or caramel icing.