They may be reminiscent of the 1980's, but a cheese ball can still be a nice party food for watching the game on television with the gang or any other casual event.
While many are savory, cheese balls can also be a sweet treat.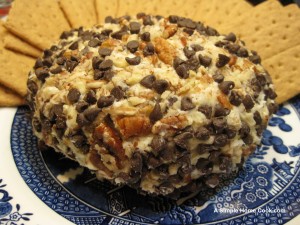 One sweet cheese ball is a chocolate chip cheese ball that I made from a recipe found in the Lehman's Anniversary Cookbook after some minor alterations to the recipe.
If you like raw chocolate chip cookie dough, you very well may really like this cheese ball.

Recipe: Chocolate Chip Cheese Ball
Ingredients
8 oz. cream cheese, softened
1/2 butter, softened
1/2 tsp. vanilla
1 c. confectioner's sugar
3 Tbsp. brown sugar
1 c. mini chocolate chips
1/2 c. chopped pecans
Instructions
Beat cheese, butter and vanilla until mixture is light and fluffy.
Blend sugars into mixture, slowly.
Stir in 3/4 c. mini chocolate chips.
Form into a mound in mixing bowl and place in refrigerator or freezer until it is cold but still sticky.
Place onto a piece of plastic wrap and form into a ball.
Put back in refrigerator for at least another hour.
Remove from wrap and roll into remainder of chips and pecans.
Serve with graham crackers.
For a savory cheese ball, I love the classic dried beef cheese ball.

Recipe: Chipped Beef Cheese Ball
Ingredients
16 oz. cream cheese, softened
1/2 c. mayonnaise
1 tsp. garlic salt
1 1/2 Tbsp. Worcester sauce
1/4 c. minced fresh onion or 1/8 c. dried minced onion
1 jar chipped beef, finely chopped
Sliced almonds
Instructions
Mix cheese, mayonnaise, onion, sauce, and garlic salt until well blended.
Stir in beef.
Form into a ball.
Refrigerate for an hour or so.
Remove and roll in sliced almonds.
Refrigerate again for one to two hours more before serving with crackers.