I know that you should have great food pictures if you have a food blog, but frankly, it was late, we were hungry, and the food was so good that . . .well. . .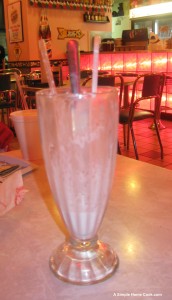 Instead of showing you a tasty strawberry shake, I am showing the nearly empty glass. This was just a half serving shake. I split it with my daughter as a dessert. It was rich, creamy, and delicious on a cold December night.
Their shakes are made with real ice cream and blended to order. My daughter wanted strawberry, but they are available in many different flavors. In fact, their menu says there are more than 350,000 different flavor combos available.
They also have flavored soda pops, teas, and lemonades to drink. Their other soda fountain treats include ice cream sodas, floats, and egg creams. Yum!
Of course, I only had the shake after I ate my made-to-order cheeseburger and delicious fried onion rings.
There are almost as many topping choices for the cheeseburgers as there are flavors for the milk shakes.
The onion rings are some of the best I have ever eaten.
I also really like to build my own grilled Portobello mushroom sandwich from the cheeseburger toppings list. They also offer the Portobello as a melt or a salad.
They offer salad versions of their cheeseburgers, veggie burgers, and turkey burgers. The salads are also "invent your own."
Bottom line, Cheeburger Cheeburger is a great place to have a blast from the past and some awesome food.
They have locations scattered over the United States. Check out their website to see if there is one near you.
Despite how this review sounds like a commercial, I have not been compensated or solicited in any way by Cheeburger Cheeburger. The opinions and experiences expressed here are just my own.