Lighting up your grill may not be the first thing that you think of while your buying fresh fruit, but it is something to consider.  This is especially true if you chose fruit that may not be quite as ripe or as sweet as you would like.
Ripe fresh pineapple is delicious, but one of its enzymes causes a reaction in a lot of people including members of my family.  So, the main way we eat fresh pineapple at my house is grilled because the enzyme is changed.  However, it took buying a few not quite ripe watermelon, honeydews and cantaloupes to convince me to trying grilling them.  After grilling them, I wish I had done it sooner. . . I wouldn't have composted/thrown away so much food and money.
The next logical step for me after grilling individual fruit dishes was to start combing fruit and making a fruit salad.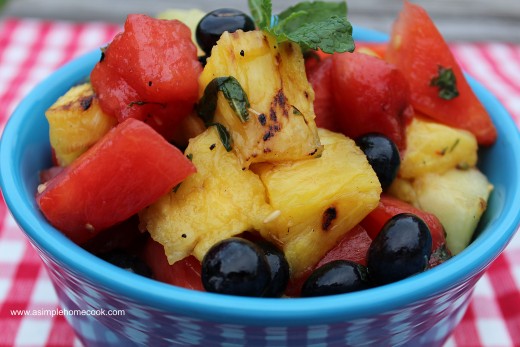 I used honeydew, watermelon and pineapple in this salad, and would have used cantaloupe if I had one to use. I don't grill blueberries, blackberries, strawberries, etc. So, I mix non-grilled and grilled fruits in the salad.
Grilled and non-grilled fruits can both be used in a salad
To successfully grill melons (and stone fruit), the fruit needs to be slightly under-ripe or at least very firm.

As I was planning to make a grilled fruit salad, my honeydew melon was a almost too ripe…had I not been buying it to grill it would not have been ripe enough 🙂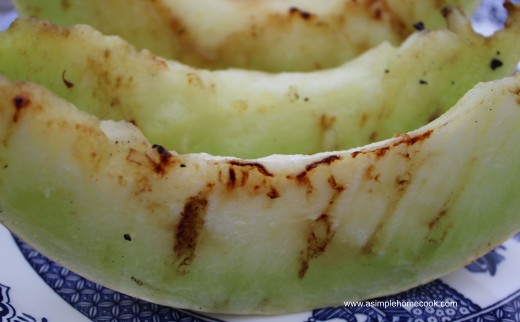 Melons should be sliced at least a half an inch thick, preferably an inch or more.
The pineapple I chose would have not been ripe enough to use yet, but it tasted great after grilling.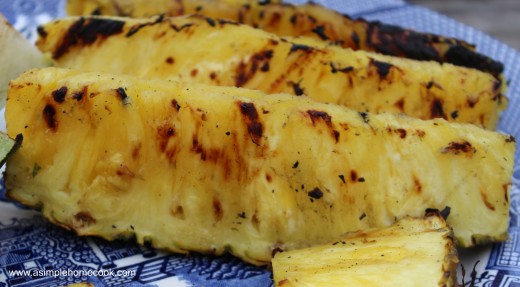 I prefer to leave the rind on the fruit to grill it, but it can be peeled ahead of grilling. Unless you are using a grill pan, you will want to leave it in large enough pieces to easily manipulate on the grill.
Also, make sure that your grill is hot enough. When I put this watermelon on the grill, the coals were not hot enough.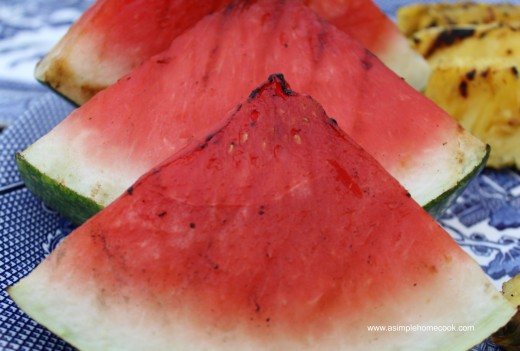 On a hot grill melons only take a couple of minutes per side to get grill marks.
Grill all of the fruit until desired texture.
If you prefer not to grill your fruit, the honey-mint dressing still can add a zip to your fruit salad.