Tonight, I made soup beans for dinner. No, I have not made a mistake when I say soup beans. I do not mean bean soup; I mean soup beans.
I am from Appalachia where soup beans are not the same thing as bean soup. Bean soup usually contains things like celery and has a more of a broth. Soup beans are northern, pinto, navy, or other white or brown dried bean cooked with ham or pork hocks.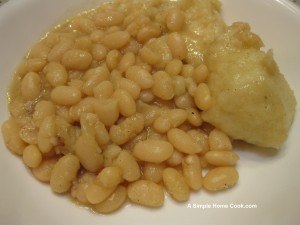 They are usually served with corn bread. My mom usually made them with dumplings. So, we did not always have corn bread.
I tried to make them like hers, but she never used a recipe. I think I came very close.

Recipe: Soup Beans
Ingredients
1 lb. dried beans (we always use northern)
6-8 c. water
6 c. water
ham bone with some ham or smoked pork hock
1 tsp. pepper
2 tsp.salt or seasoned salt
1 -2 drops liquid smoke (if not using smoked ham or pork hock)
Instructions
Rinse and sort beans.
Place in large pot with 6 – 8 c. water.
Let set over night. OR Bring to a boil for 2 minutes then remove from heat and let set covered for 1 hour.
Rinse beans.
Add ham bone and beans to pot with 6 c. of water.
Add some  seasoned salt and pepper. Add liquid smoke if you are using it.
Cook on medium low for an hour.
Cook uncovered for an additional hour or so until beans are very tender. Do not stir too much. Add additional seasoned salt and pepper, if needed.
Add dumplings in when beans are almost done.
Cover and cook until dumplings are done.
Test by removing a dumpling and making sure it is cooked through.
Quick Notes
Liquid should reduce as the beans cook concentrating the flavors.  Be careful when adding salt and pepper. It is best to add a little then more after tasting closer to the end of the beans cooking time.
The salt content of the ham will also influence how much salt to use.
Recipe: Dumplings
Ingredients
1 c. self-rising flour
1/2 c. milk
Instructions
Mix ingredients. Drop by teaspoonfuls into almost completely cooked soup beans.
Cover and cook until done in the middle.
Variations
Same recipe can make chicken and dumplings.
Just drop batter into heated chicken broth. Cooked covered for about 4 -5 minutes.
For full disclosure, I do not like soup beans. I never have liked soup beans. I only like the dumplings. I have only ever liked the dumplings. However, my husband and daughter both like soup beans and really liked these.