January is National Soup Month. I have no idea how it came to be National Soup Month. It appears also to be National Oatmeal Month, National Tea Month, and National Slow Cooking month. Really, I had no idea.
In honor of National Soup Month, I decided to make a few soups. I thought I would start with one my mom always made, Vegetable Beef. It was by far the soup she most often made from scratch.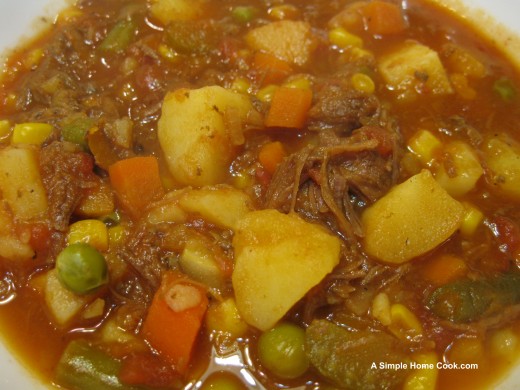 I love it because it is a hearty soup that can be made using whatever you have on hand and like.
My mom often used a lower grade roast or even steak as the beef meat. My paternal grandmother would use oxtails. (Okay, it is technically oxtail soup then but I never could tell the difference.)
Both frequently used the pressure cooker to cook the beef for the soup. I prefer to use a pressure cooker as well because it produces very tender, fall-apart beef in very little time.
For this batch, I used "stew beef" that we had in the freezer. I probably would not buy "stew beef" in the grocery store, but it is something we get because we buy our grass-fed beef by the side.
The vegetables can be whatever you like. My mom and grandmothers typically used fresh or home frozen or home canned veggies. I used fresh or frozen ones from the store.
Other than canned tomatoes, the vegetable choices are completely dependent on what you have on hand and like. I think tomatoes are vital because they add a great deal including juice. They can be whole, crushed, diced, fresh or fire roasted.
I used Muir Glen Fire Roasted diced tomatoes this batch. I loved how they tasted in it.

Recipe: Vegetable Soup
Ingredients
1 to 1 1/2 lb. beef
2 c. water
32 oz. vegetable or beef stock
28 oz. tomatoes, crushed or diced 1 – 2 parsnips
2 – 3 potatoes, e.g. Yukon Gold
2 stalks celery
1 lb. frozen classic vegetables
sugar
salt
pepper
Instructions
Cook beef in water and 8 oz. of stock in a pressure cooker for 20 – 30 minutes depending on if it is frozen or thawed.
Add remainder of stock, tomatoes with juice and longer cooking veggies pieces, parsnips, potatoes, celery.
Add shorter cooking veggies, e.g. frozen vegetables after the longer cooking vegetables have started to get tender.
Then add sugar, salt and pepper to taste.
Cook covered until all vegetables are tender.
Quick Notes
Cabbage and turnips are excellent vegetables to also include.
If using parsnips (highly recommended), prep them by peeling  with a veggie peeler then cut them into a few pieces.  Quarter each piece then cut out most of the core from each piece.  Once core is removed, cut into bite sized pieces.  I think getting rid of the core makes the parsnip taste much better.
Cooked covered to retain more of the liquid.
Using low or no added sodium stock and tomatoes allows more control of sodium amounts.
Total cooking time will vary. It will be generally 1 1/2 to 2 hours.
If you do not have a pressure cooker, just cook the beef in water and stock like a pot roast until very tender.