Hobo bread may have originated in the 1930's with the transient workers who rode the rails in freight cars across the United States as reported by some. Even if it did not, it seems likely that this originated as a "poor person's food" because it is known for being baked in a previously used can…usually a coffee can.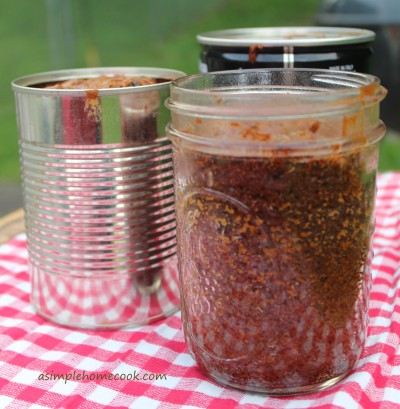 Because hobo bread is traditionally baked in tins (jars also work well), it is great to make while camping; to take to camping, tail gating and picnicking; or to present as a gift.
Hobo bread is a type of quick bread. It is does not require yeast, proofing, or kneading. It is a moist, dessert-like bread.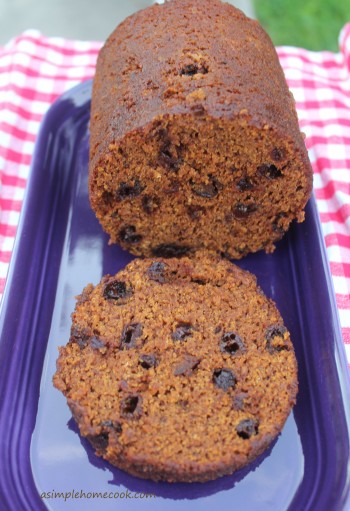 While recipes for Hobo bread vary greatly, they all seem to contain raisins. Many of the recipes have eggs and milk also, but I found one in my cookbook collection that did not have either. So, what did I do? I changed the recipe to include more fiber, different sweeteners, and dried fruit, still no eggs or milk. I just think if the bread really originated with Hobos they may not have had eggs and milk to make it. (Okay, they probably did not have vanilla either.) Plus, I can serve it to my vegan friends.
I made the bread pictured with raisins and dates. Other dried fruit like blueberries and cranberries make good, albeit nontraditional, hobo bread.
Ingredients
1 c, raisins
1 c. dates, chopped
1 Tbsp. baking soda
2 c. boiling water
1 c. rolled oats, ground (or prepared oat flour)
2. c. unbleached all-purpose flour
2/3 c. brown sugar
1/3 c. maple syrup
1/3 c. sugar
1 1/2 tsp. salt
2 tsp. vanilla
4 tsp. oil (safflower, canola, corn, etc.)
Instructions
Add the raisins, dates, and baking soda to a non-reactive bowl (glass, etc.). Pour the boiling water over the dried fruit and soda and allow it to stand at room temperature overnight.
Mix in the flour, brown sugar, maple syrup, sugar, salt, vanilla, and oil.
Preheat oven to 300 degrees F.
Spray or Grease (a flour dusting is also recommended) 3 coffee can (approx. 1 lb. cans) and fill about halfway full with the batter. If you don't have 3 coffee cans other non-lined cans or canning jars are great to use.
Place cans on a baking sheet and in the oven.
Bake for about 1 (depending on can size it could be 40 to 75 min.) until a sharp knife or tester inserted in the middle comes out clean.
Place cans or jars on a rack to cool. As the bread cools, it should pull away from the sides of the container.
Do not serve until cooled enough to easily handle.
To serve, just turn the can upside down and the bread should slide out.
Cut into desired thickness and serve warm or cold.
Stores well at room temperature for several days when sealed with a lid. If no lid is available, cover tightly with wax paper or cling wrap when completely cooled.
Notes
You can substitute honey for the 1/3 c. sugar.
You can use any type of raisins, dates, dried cranberries, dried blueberries, currants, etc. combined or individually in the recipe. Just use a total of 2 cups and soak as directed.
If you use blueberries alone or in combination with another fruit, like cranberries, you may want to substitute honey for the maple syrup.
You can substitute 1 c. whole wheat flour for 1 of the cups of all-purpose flour.
https://www.asimplehomecook.com/hobo-bread/
2017