Another Spoiler Alert:  If you know me, you may see your Christmas present ahead.
My husband's aunt made wonderful filled chocolate candies.  She would give them as Christmas presents every year.  (She had to have made hundreds every year!)  Everyone looked forward to her delicious treats.
She put together a recipe book a few years back after finding out she had cancer.  It included all of her filled chocolate candy recipes.  However, I have not been able to bring myself to try and make any of them until this year.
This year, I needed present ideas and was craving some good coconut filled chocolates, thus I decided to make her coconut candy.
When I went to the candy/baking store to buy the required chocolate, I discovered a candy mold shaped like Almond Joy and Mounds candy bar pieces.  I decided to get them remembering I had a recipe for " Almond Joys" and a recipe for "Mounds."
When I started making candy, I decided to use my husband's aunts filling in the candy bars instead of using my recipes.  It took some of the pressure off making them as good as hers because they were molded, thus different.
They were great.  They are more yummy than what you buy in the store.  They are also MUCH cheaper.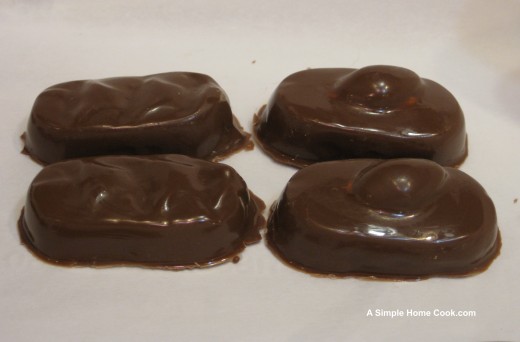 I need an off-set spatula and/or a plastic squeeze bottle to get a neater appearance when I apply a back coating.
My problem is I really don't think I can share the recipe for the filling I used.  I do not think it is mine to share.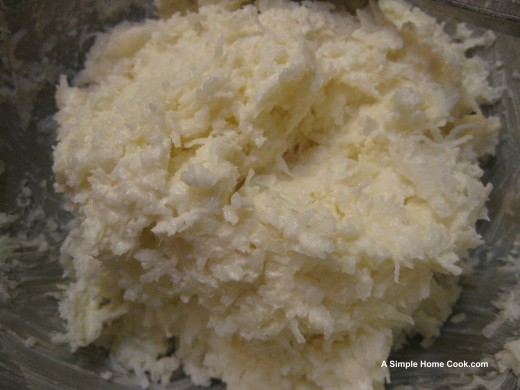 So, I thought I would share the recipe that I intended on making.  If you do not have a candy mold or just do not want to use one,  you can just make them into bar shapes and dip them.

Recipe: Coconut Filled Chocolate Candy Bars
Ingredients
14 oz. sweetened coconut
1 can sweetened condensed milk
1 lb. confectioner's sugar
Merckens Chocolate melt wafers, milk and/or dark
Instructions
Mix coconut, milk, and sugar together.
Place in refrigerator until chilled enough that you can work easily with it.
Make into bars or roll into logs and dip into melted chocolates.
Place on parchment paper or wax paper lined baking sheet to dry.
Or use candy molds.
Variations
You can add finely chopped almonds directly to coconut mixture to make "Almond Joy" type candy bars/balls.