To be quite honest, cubed sugar is something I have only purchased a couple of times in my entire life. When I did, it was for my college students to use to pull the carbonation out of soda pop as part of a demonstration for middle school students. I never wanted to pay extra to have a lump rather than a spoonful of sugar (yes, I am….frugal).
However, there are sugar "cubes" in my kitchen.
My husband and daughter recently started making them for tea parties and other occasions. Not only do they cost the same as loose, granulated sugar, but they can be made into cute, occasion appropriate shapes.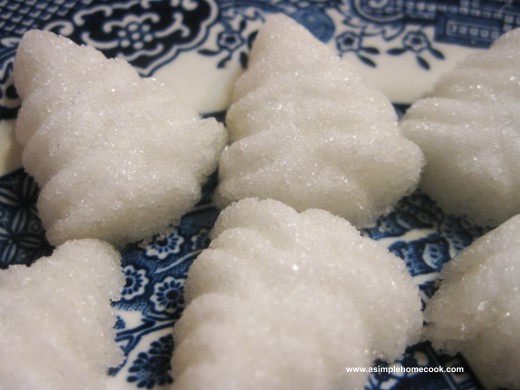 More importantly, these sugar cubes are fun and easy to make. They only require three things: sugar, water, and a mold.
The molds do not need to be expensive. My husband and daughter use my plastic, polycarbonate, and silicone candy molds, but even a mini ice cube tray will work. Plastic candy molds can be found at many discount stores, dollar stores, Amazon and other websites. There are thousands of molds including Bite Size Roses
, Bite Size Hearts
,The Cup, Saucer, and Teapot
and many, many more to fit any occasion.

Best of all, making our own sugar "cubes" has been a fun family activity that has truly been its own sweet reward 🙂