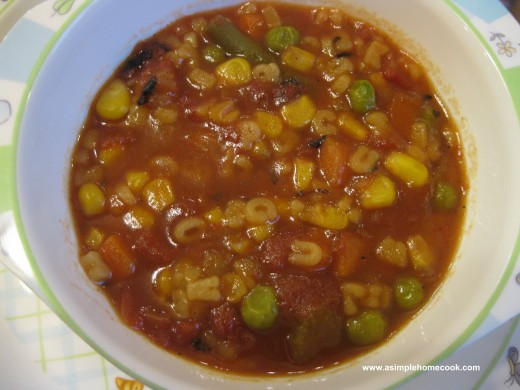 What kid doesn't love vegetable alphabet soup? Okay, I guess there are a number who won't touch anything that looks like a vegetable. In fact, I was surprised as a child that not all my friends liked it because alphabet soup was my favorite. I loved making words and was always excited to see what letters I would get in my bowl.
I may just have been an odd child, but I must be raising an odd child as well. My daughter loves alphabet soup, too. As her reading skills are developing, she is starting to form words in her soup as well.
When I found a bag of alphabet noodles in the pasta section of my grocery store, I got very excited. I realized that I could easily make my own alphabet soup at home and control the ingredients while possibly reducing the cost.
Here are a couple of the alphabet pastas available:
I used the DaVinci pasta (it is just what I found). They were about the size of a kernel of corn when they were done…not too large, but big enough for my daughter. They also held up well in the soup. Plus, they tasted good. They were not organic like the rest of the ingredients in the soup, but I don't use strictly organic ingredients.
Beef or chicken stock can be used instead of vegetable stock. I use no-salt stocks, no-sodium added tomatoes, and sodium-free pasta. The recipe may seem like it calls for a lot of salt, but it is more of salting to taste as you add salt free ingredients. My end product had much less sodium than its canned counterpart.
I like to add a little sugar when using commercially canned tomatoes to cut the acid and the canned taste. I do find the fire-roasted tomatoes need less than other types. If you don't use fire-roasted tomatoes, you may want to add a little more sugar.
Soups with meat and/or potatoes are great in the pressure cooker or in a crock pot. I tried to give directions for any cooking method in the recipe. Of course, it can also be made in a regular pot on the stove top.
My husband and I enjoyed the soup just about as much as our daughter (I can't say that about the canned stuff from the store). It was yummy. Yet, there was about half the batch of soup leftover. I think it will last a day or two in the refrigerator, but I don't think the pasta would freeze well.
For More Soup Recipes:  Come join SoupaPalooza at TidyMom and Dine and Dish sponsored by KitchenAid, Red Star Yeast and Le Creuse