It was late. I had no idea of what to make for dinner. My husband's milk protein allergy and my sensitivity to citric acid made me want to avoid a quick pasta dish, but it seemed the best alternative. Just as I was about to toss a coin to determine who to make miserable, I remembered Spaghetti Carbonara was made without tomatoes and often without cream (the hubby can eat hard cheeses).  The only problem I had was I had only eaten it a few times and I had never made it.
A quick search on the Internet landed me on the Food Network site reading recipes. Both Tyler Florence and Emeril Lagasse had recipes that did not call for cream, thus I read both. Then, I went to the kitchen to attempt my own with my husband's help.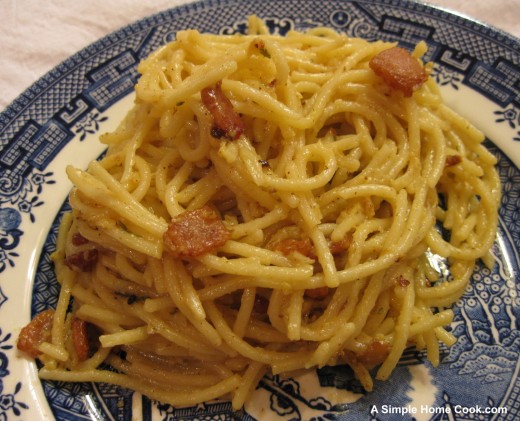 It turned out great – even if I do say so myself.   The entire family really liked it.
I ended up using more of Emeril's ingredient proportions and Tyler's technique. However, my last minute decision to make this dish also had me making substitutions.

Recipe: Spaghetti Carbonara
Ingredients
1 1b. spaghetti
Water
Sal
t 1/2 Tbsp. olive oil
4 slices of thick cut smoked bacon
1 small onion, diced
4 large eggs, beaten
3/4 to 1 c. Parmesan cheese, grated
1 Tbsp. garlic salt
black pepper
Instructions
Place spaghetti in pot of salted boiling and cook to al dente. Drain pasta lightly when cooked.
In the meantime, heat olive oil in a large, deep skillet.
Add bacon and fry until crisp.
Remove bacon and set aside.
If there is a lot of grease/oil, drain excess into a container (reserve it just in case you need to add it back in later).
Add diced onion to skillet on medium high. Cook until onion is soft and translucent.
Add bacon back into the skillet.
Stir 1/2 c. to 3/4 c.  Parmesan cheese into the beaten eggs until smooth.
Add pasta to skillet and toss to cover in bacon grease and olive oil (add reserved grease if needed), stirring constantly.
Remove from heat.
Add eggs/cheese mixture while stirring pasta to prevent eggs from scrambling.
Add garlic salt, pepper, and more Parmesan cheese to taste.
Serve hot.
Notes
Most recipes use fresh garlic instead of garlic salt.  If using fresh garlic, add in skillet with the onion.
Pancetta may be used instead of slab type bacon.
The heat of the pasta will cook the eggs.  They sauce should thicken on the spaghetti as you stir.
If you want to put it back on the stove before serving, be sure to stir continuously or the eggs will still scramble.
If you are concerned that you'll scramble the eggs when mixing with the pasta, you can temper the egg mixture with a little hot pasta water before mixing them together.

The pasta dish is very rich and creamy without any cream added.    Yes, you really can mix the pasta and eggs without the eggs curdling(scrambling)!
I think when I had it before it also had peas in it. None of the recipes I read called for peas and my husband doesn't like peas, so they were left out. I think they would be a nice addition though.
It is a very filling dish.   We had tons of leftovers.  Now, I need to find out whether or not it reheats well. . .