Until recently, I did not roast my own peppers. I only purchased roasted red peppers once or twice as I rarely used them in my cooking. Well, no more….it is so simple and they taste so much better than jarred.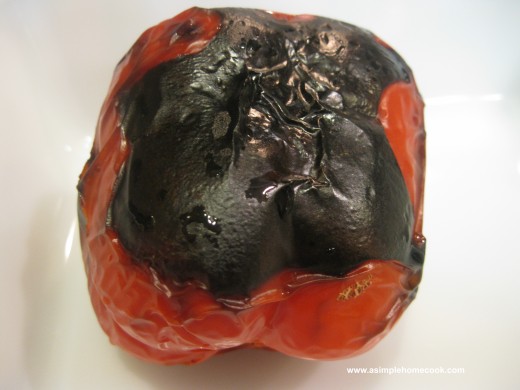 A super easy way to roast peppers is under the oven's broiler. You just place the peppers on a baking sheet under a broiler (I use the high broil setting on my oven). Leave them until the skin on that side blackens and then use tongs to rotate the peppers to another side and place leave again until blackened. Continue until all sides are blackened or blistered. Place in a bowl and cover with plastic wrap or tight fitting lid or in a plastic bag for 10 – 15 minutes or more. Remove from bag and peel off skins by hand. Remove stems, seeds, and membranes as desired. Cut as needed for recipe(s).
The prepared roasted peppers can be stored in the refrigerator for use the next day.
You can also freeze roasted peppers, but like non-roasted peppers, they will loose much of their remaining firmness and are best in cooked dishes. To freeze, place on a cookie sheet in a single layer and freeze most or all of the way before placing in freezer bags or other freezer containers.
My favorite uses for roasted red peppers are in red pepper hummus and creamy roasted red pepper soup. Yum!
Enjoy!