We always called it "Hunky Mess" because growing up I was told it was Hungarian Goulash.  It is not the traditional potato and beef version of goulash – I doubt that it is goulash of any kind.  Although, it does call for a substantial amount of Hungarian Paprika.  Thus, we called it "Hunky Mess."   Today, I still carry on the tradition in my family.  We all call it "Hunky Mess."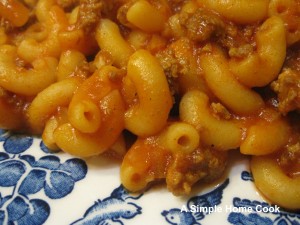 Hunky Mess is also one dish that I honestly think I make better than my mom.  My mom was a great cook and made this dish frequently, but it was not her best dish.
I did make on major change.  I do not use canned tomatoes (she always used home canned tomatoes).  I just use tomato juice.
The major problem I have in passing on this family favorite is a lack of measuring.  My mom didn't measure anything and I do not either.  I have included my best guess on measurements.

Recipe: Hunky Mess (Skillet Beef and Macaroni)
Ingredients
1 lb. macaroni
1 lb. ground beef
1 med. to lg. onion (or dried equivalent)
salt, to taste
50 oz. low salt tomato juice
1 tsp. chili powder (approx.)
1 1/2 Tbsp. paprika (approx.)
1 Tbsp. Worcestershire sauce (approx.)
1/4 c. sugar (approx.)
Instructions
While water is heating to cook pasta, brown ground beef and onion in a large skillet. Drain, if needed.
Add tomato juice, chili powder, paprika, Worcestershire sauce, sugar and  salt to meat mixture.
Cook macaroni until it is just underdone(very al dente).
Drain macaroni and add it to tomato sauce mixture.
Cook until pasta is done to taste.
Quick Notes
Make sure to add salt to the ground beef, macaroni, and tomato mixture separately until you like the taste of each before combining them.
We don't use much salt in our house, but this recipe tastes so much better with salt. Using low sodium ingredients allows you to control the amount of salt going into the food to your taste.
We serve it with Grated Parmesan Cheese and Kraft Cheese and Macaroni  Topping (It used to be called Grated American Cheese).
Makes great leftovers!
Number of servings (yield): 12