After a long, stressful day at Vanderbilt Children's Hospital, I promised my daughter she could have some ice cream as a reward for her good behavior. After some quick research on Urbanspoon, we headed to East Nashville to the highly rated Jeni's Splendid Ice Cream shop.
Jeni's was a bright, clean, modern business with a coffee/cafe/ice cream shop vibe. We were greeted by very friendly staff who seemed genuinely happy to wait on us to get our barrings as we stared at the large and unusual selection of ice creams and sorbets.
Although I knew little about Jeni's except that people really seemed to like it, the selection written on the chalkboard menu struck me as familiar. It sounded like Ohio. Not only were the names of the ice cream creations definitely a homage to Ohio, but the signs next to the ice creams indicated that many of the ingredients used in the ice creams were from Ohio. So, as I tasted my third or fourth type of ice cream (yes, they have UNLIMITED tastings before you decide on what flavor/flavors you'd like), I asked about the shop. It turns out the Jeni's is a chain from Ohio…I was in the only shop in Tennessee. Ah…that explained so much….except, how come I did not know about Jeni's when I was in Ohio?
My regret about not knowing about Jeni's when I was in Ohio grew as I tasted several flavors and made my final selection…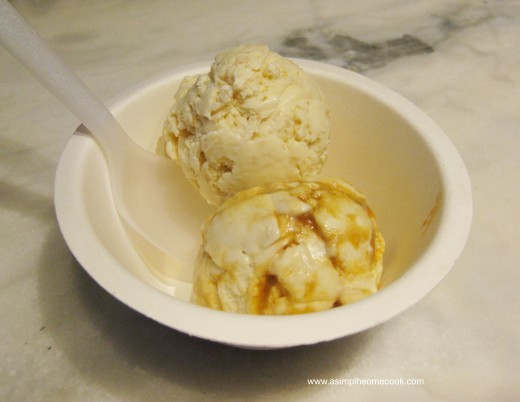 Both flavors I selected for my dish were wonderful!
My husband (who has dairy allergies) picked just one flavor of sorbet, Riesling Poached Pear. However, he did opt to get three scoops of it.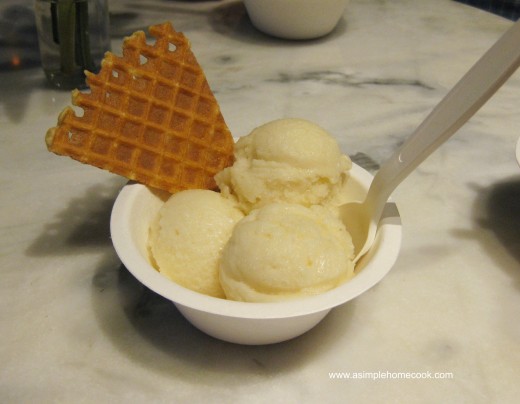 He said it was delicious.
My daughter had an especially trying day and just wanted to eat her ice cream. She did really enjoy it.
Jeni's turned out to be a terrific choice for several reasons:
Great tasting ice cream and sorbet
Very friendly, courteous staff
Clean, pleasant atmosphere
Quality ingredients with sources listed
Unique flavors and combinations available
Although our trip to Nashville was not for pleasure, eating at Jeni's Splendid Ice Cream was very pleasurable.