It is rare for me to find a restaurant where I like everything about it. However, that is what has happened with Kabob-ster in Chattanooga, Tennessee. Kabob-ster has great Middle Eastern cuisine at reasonable prices in a clean, bright casual atmosphere. It is a non-chain, local establishment in an area of town that does not have many non-chain restaurants.
The restaurant is located at the end of a small strip of businesses in a newer building along Gunbarrel Road close to East Brainerd Road. It is less than a mile from Interstate 75. Despite nice signage, it can be a little hard to spot if your not paying close attention. It is definitely worth taking your time and looking for it.
Inside, they offer so many delicious options that I find it hard to choose: Falafel, Baba Ghanouj, Burek, Gyro, Tambouli, Shawarma Wrap…. Every item I've tried has been delicious.
On our first visit to Kabob-ster, I ordered the Kufta Kabob plate and my daughter got the kid's version. It was wonderful.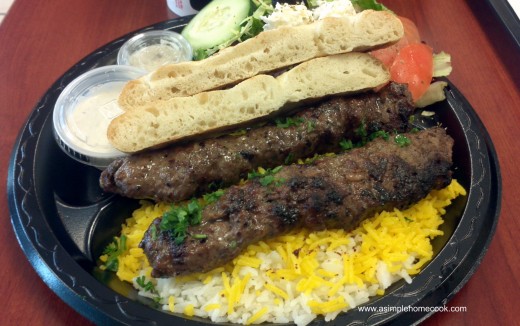 The Kabob plates come with either two or three sides. I selected Basmati rice and Greek salad on this visit. The salad was very fresh and the rice was perfectly cook and very delicious.
Their freshly baked Tandoor bread comes with every plate. It can also be purchased separately. It is warm with a wonderful taste and texture.
On subsequent visits we have tried and really liked the veggie kabob, gyro meat, hummus, and the cheese-spinach Burek. Yes, that is everything we have eaten at Kabob-ster.
Although the restaurant does have a little of a fast food vibe despite its well apportioned Middle Eastern decor on the walls, it is not a fast food restaurant. I think a better description would be a causal restaurant with usually quick service. The food seems freshly prepared, so sometimes there is a little wait. You can place orders ahead by phone and use their pick-up window if you in a hurry.
Whether eating in or taking out, Kabob-ster has some the best Middle Eastern cuisine in the region and is worth giving it a try.
Kabobster