My husband came home from work one day going on about a pickle that he had from a mobile food vendor.  It was a dill pickle that had been soaked in Kool-aid…a Kool-aid pickle.  When I coordinated a fall fair at my church earlier this month, he was adamant that we make Kool-aid pickles to sell in addition to the regular large dills that we were planning on selling.  He mixed up a batch according to a recipe we discovered several places online.  It was evident just a few days later that the recipe did not have enough Kool-aid or sugar to make a pickle similar to what my husband bought from the mobile vendor; in fact it made for a kind of nasty pickle.  Thus, he doubled the Kool-aid and increased the sugar, which brought him closer to a few other recipes we found…some of which had a ridiculous amount of sugar.
The result was a cherry flavored dill pickle that was both sweet and tangy…not bad despite my initial misgivings.  I can see why they are so popular in some of the Delta area of the southern United States and other places that have discovered them.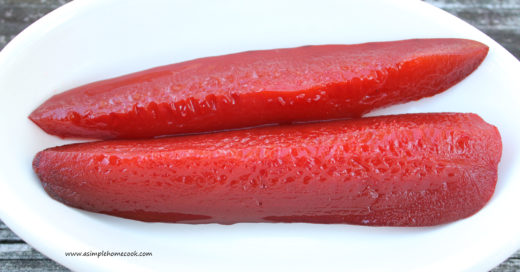 There are several different recipes online for Kool-aid pickles, but they are all variations of a few things:  how much Kool-Aid, how much sugar, and whether to use the pickle juice or water. Granted how much sugar used also influences another key difference in some recipes…to heat the liquid mixture or not.  My husband's version that worked very well does NOT heat the liquid mixture.  It is not needed to heat it because the amount of sugar does not exceed the saturation point of the dill pickle liquid.  I do not know if he had used water instead of pickle juice whether it still would have completely dissolved or not.
Bottom line:  This recipe is simple; it just requires sitting around for at least a week before it is done.
As for my husband's Kool-aid pickles to sell at the Fall Fair, they were not done. 🙂   More than a month later, we still have almost half a gallon of the cherry Kool-aid pickles in the refrigerator (they store very well).  Plus, there is also a quart of grape ones he made a couple of weeks ago…
Ingredients
1 gal. jar of dill pickles
4 pkgs. Kool-aid (cherry, black cherry, lime, grape work well)
4 c. sugar
Instructions
Drain the juice/brine off of pickles into a pot or bowl.
Stir in Kool-aid and sugar until sugar is completely dissolved.
For quicker Kool-aid pickles, split whole dill pickles into halves or quarters. Or, leave the pickles whole if you prefer.
Pour Kool-aid mixture back in jar over pickles making sure pickles are covered.
Place in refrigerator for at least a week (longer for large whole pickles) stirring or rotating jar every day or so.
They are ready when the flesh turns a color that aligns with the flavor of Kool-aid used and the pickles taste of that flavor and have some of the dill tang as well. The longer they sit in the liquid, the more flavor they seem to absorb.
https://www.asimplehomecook.com/kool-aid-pickles/
2017