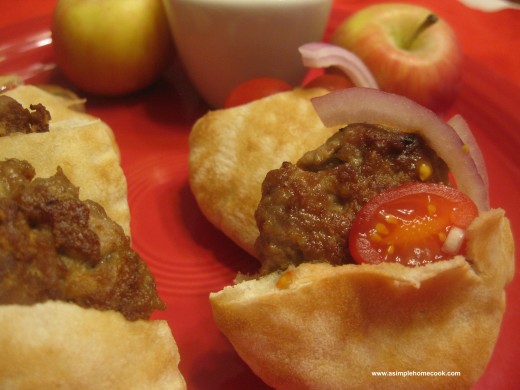 When planning for a group to come over to my house, I decided to have a selection of finger foods (appetizers) instead of having a formal dinner. Although I did not have a "theme," I did try to make as many miniature versions of dishes that I would normally make or serve in larger portions. I even found adorable miniature organic apples (as pictured above) to have with the rest of the cute miniature servings.
First up, my lamb burgers became mini-sliders served in mini-pitas.
To make the lamb sliders, I used my lamb burger recipe with a few changes…based on what I had on hand and my new obsession with adding cumin to many meat dishes. First, I omitted the dried apricots as I wanted to serve them with a couple of different condiments. Second,  I Substituted the same amount of crushed quick oats for the cracker crumbs in the original recipe.  Finally,  I  added 1/2 tsp. cumin to the meat mixture.
I served two of the one pound burger recipes.  One pound of lamb sliders were served alone in half a mini-pita pockets.  The another pound of lamb sliders were served with sliced grape tomatoes and slivers of red onions in the half a mini-pita pockets. Guests could add their own condiment of either mango chutney and/or tzatziki sauce.
The mango chutney is store bought. I really like Crosse & Blackwell Genuine Major Grey's Chutney,

and Stone Wall Kitchen Mango Chutney.
Tzatziki sauce is rather easy to make since Greek yogurt has become so readily available in most grocery stores. I think the trick is getting rid of much of the water in the cucumbers before adding them to the sauce, which makes a nice, thick sauce.


Recipe: Tzatziki Sauce
I ended up with 34 mini-sliders (some were rather large for my mini-pitas) from two pounds of lamb. The amount of tzatziki sauce was sufficient with the mango chutney, but you may want to consider doubling it if you plan on serving it as the only condiment or with other items (like pita chips). Of course, I really like tzatziki sauce.