There is a recipe in my newly acquired (but actually very old) cookbook, The Fannie Merritt Farmer Boston Cooking School Cookbook for Zucchini Stuffed with Lamb. It is a very brief recipe that leaves the seasoning details up to the reader.
Taking inspiration (and the three ingredients mentioned) from the recipe, I developed my own. I decided to stick with a familiar cooking method that I use when making stuffed peppers and flavors that work well with lamb.
The end results were very yummy.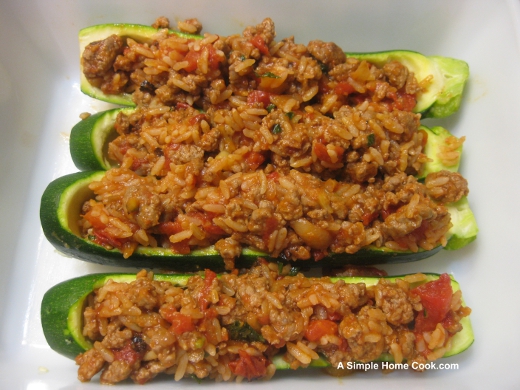 Recipe: Lamb Stuffed Zucchini
Ingredients
1 lb. ground lamb
1/2 Tbsp. olive oil
1 small onion, diced
1 clove garlic, diced
10 – 12  small zucchini
1/4 c. "instant" brown rice
1 15 oz. can fire-roasted diced tomatoes
2 1/2 c. tomato juice
sugar
salt
1 – 2 Tbsp. chopped mint
mozzarella or provolone cheese (optional)
Instructions
Cut a thin strip off of each zucchini lengthwise.
Use a smaller melon baller or spoon to scoop out zucchinis leaving just a little flesh and the skin.

Chop the zucchini that was removed.
Heat olive oil in large skillet.
Add onions and cook until they start to get tender.
Add garlic followed by the chopped zucchini.
Add lamb and cook.
Season with salt.
When lamb is done, add rice, diced tomatoes, and 1/2 c. tomato juice with a little sugar added.
Cook until rice is tender.
Season with more salt if needed.
Add mint .
Place zucchini shells (hollowed out zucchini) in a 2 inch high baking dish.
Fill each with meat mixture.
Add  remaining tomato juice with some sugar added to the zucchini by pouring the juice over the stuffed zucchini's in the baking dish. You want about a 1/2 inch of juice standing in the baking dish; you may need to adjust amount for the size of dish you use.
Cover and bake in a preheated 375 degree oven for approx. 40  minutes or until zucchini shells are tender.
Add cheese to cooked zucchini, if desired.  Return to oven until cheese is melted.
Serve warm.
Quick Notes
I like using low sodium or "not salt added" ingredients. It allows me to control the amount of sodium better.
Using a 1/2 cup of rice instead of 1/4 cup will make more filling.  You just need to increase the amount of tomato juice added to the meat mixture in order to cook the additional rice.
Cooked rice may be used instead of "instant" rice.
Rice does not have to be brown.  Many varieties would work.
Depending on size of zucchinis, you may have a lot of filling leftover.  Filling works well to stuff peppers as well.
Beef may be used instead of lamb.  I would omit the mint as well, if using beef.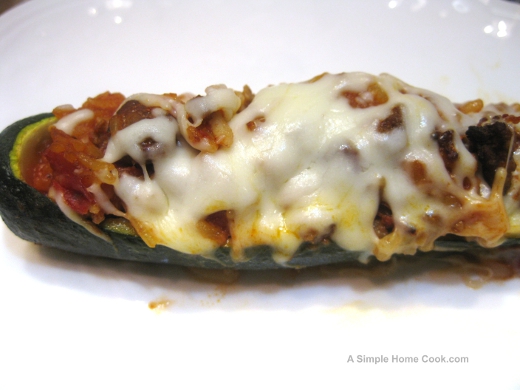 This recipe could easily be made vegetarian by omitting the lamb, increasing the rice, and adding other desired ingredients like olives, mushrooms, chickpeas, etc.