I could not wait to share what a terrific collection of recipes I found when I purchased 55 Years and Still Cookin': Lehman's Anniversary Cookbook on sale.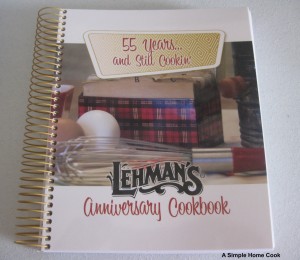 The cookbook is from one of my favorite stores, Lehman's in Kidron, Ohio. Kidron is located in Ohio's Amish Country, an area known to have great food.
This wire bound cookbook provides a very wide variety of recipes from apple julep to Amish peanut butter. All of the recipes look like they would be delicious.
I am really glad this cookbook came now as I have to make something for a covered dish brunch this Sunday. Additionally, it is great that there are recipes for cooking for a large crowd as I think I will be cooking for our church in the upcoming months.
This is a terrific cookbook that I will put in my ever growing collection of great cookbooks.
If you are interested in one of own, you can order it from Lehman's.
Note: I am not affiliated with Lehman's in any way. They did not compensated or solicit me in any way. These are just my personal experiences and opinions.