A delicious, healthy, and versatile dip that does not depend on being kept cold or hot is a summer party or picnic dream.  Lemony White Bean Dip fits right into that dream.  While it would be good any time of the year, the brightness of lemon combined with the light freshness of parsley is  great for warm weather entertaining.
It is a great alternative to hummus.  I find that people who do not like hummus will often try this dip and like it.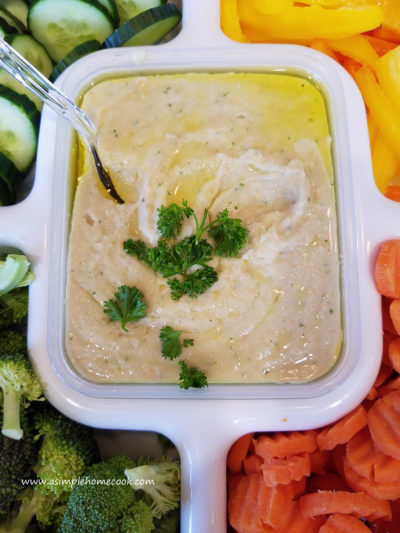 The recipe is a combination of what I liked best about several white bean dip recipes and what I had on hand to include.  I used fresh curly leaf parsley because I like the flavor and it is what I had in the refrigerator, but another fresh herb could easily be substituted.
You can add more or less olive oil depending on what consistency you want the dip.  I like more oil for a looser dip for vegetables or pita chips.  If you want to spread it on bread or crackers, you may want to use a little less for a thicker dip or spread.
Ingredients
2 cans or white beans (cannellini, great northern, etc)
2 lemons
1 med. clove garlic
3 Tbsp. fresh parsley (curly or flat leaf) chopped
Kosher salt
white pepper
cayenne pepper
1/4 c. + olive oil
Instructions
Drain and rinse beans.
Place beans in a food processor or blender.
Grate in the rind of the 2 lemons.
Juice the lemons and add approximately 3 Tbsp. of the lemon juice to the beans.
Grate in the clove of garlic.
Add the fresh parsley, 1 tsp. salt, 1/4 tsp. white pepper, and a pinch of cayenne pepper.
Start the processor or blender and slowly add the olive oil to the desired consistency.
Taste and adjust seasonings as needed.
Refrigerate until near the time to serve. Serve at room temperature or slightly chilled.
https://www.asimplehomecook.com/lemony-white-bean-dip/
2017