My daughter loves fish. Salmon is her favorite non-crustacean. Salmon is one of the few fish I actually like.   So, I have learned to cook salmon beyond making salmon cakes.
I tried several salmon recipes that did not quite fit my family's tastes before taking flavors that we liked in some of the recipes and making our own.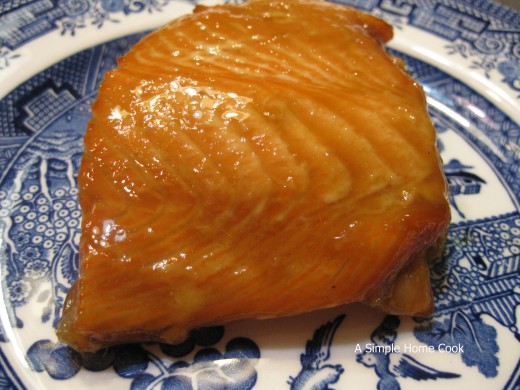 Recipe: Maple Baked Salmon
Ingredients
2 – 3 salmon fillets
3/4 c. maple syrup
2 1/2 Tbsp. soy sauce
1/2 tsp. dried ginger
Instructions
Cut fillets into portion size pieces.
Mix maple syrup, soy sauce and ginger in a 9 X 13 baking dish
. Place salmon fillets flesh side down in mixture.
Cover and allow to set for 15 – 20 minutes at room temperature.
Turn fillets over so the skin side is down. 
Bake uncovered in a preheated 400 degrees F oven until fish flakes easily with a fork.
Time is dependent on thickness of fillets, but it is usually between 15 and 20 minutes
Quick Notes
You could reduce the amount of maple syrup if you have fewer fillets.
Dark Amber maple syrup works best.  It has more maple flavor.
I like my salmon cooked through, but not overcooked. If you prefer your salmon not to be as well done, adjust time accordingly.
We do not use much salt in our diet normally, so the full sodium soy sauce is enough for us. You may add salt if you prefer.
You could use fresh ginger instead of dried despite the fact that they are not normally substitutable.  The soy sauce works well with fresh ginger.  You will need to increase the amount to 1 1/2 teaspoons.
Number of servings (yield): 4 – 6