An enthusiastic greeting by the staff upon entering the clean, nicely designed restaurant was a good start to having a great early lunch at the Maple Street Biscuit Company in Chattanooga.  While the staff and the environment were notable, the food is what really made the experience.
I had the bacon, lettuce and tomato biscuit sandwich.   The wonderful freshly-made biscuit was complimented by fresh, quality tomatoes, lettuce, and pecan wood smoked bacon. Delicious!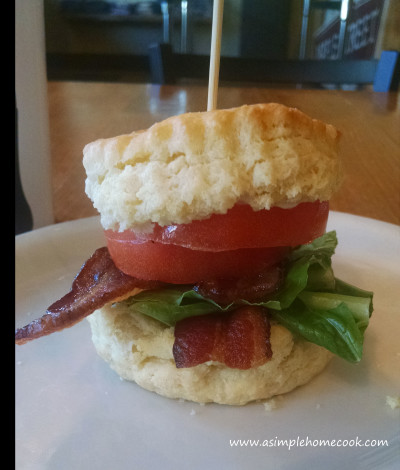 After finishing my sandwich I started feeling a little guilty about eating this great food without my family (I was waiting on my daughter to get out of a class), so I decided get an order of glazed cinnamon pecan biscuits to go for them.   Of course, I had to try one before giving turning them over to my family…they were sooo good.  Even my daughter who claims not to like pecans, loved the biscuits.
My biggest problem with my visit was trying to decide what to order.  There were several items on the menu that I would have loved to try.  I decided to try something familiar and rather simple to get a comparative feel for the food.
Next time, I would like to try something with their house-made apple butter…or their house-made pepper jelly…or maybe their sausage gravy…
Maple Street Biscuit Company is on Broad Street in downtown Chattanooga close to  the Children's Discovery Museum, Tennessee Aquarium, and much more.  Like many of the downtown restaurants the Maple Street Biscuit Company is part of a chain.  However, like a few other downtown restaurants it is part of a small, regional chain  In fact, the Chattanooga location is the only location outside of Florida and is currently only one of seven locations in total.   So, I feel it still fits into my goal of writing about and supporting local owned and operated or regional restaurants.
The restaurant is open Monday through Saturday for breakfast and lunch.  They are also open for dinner on Friday and Saturdays.  For me, Maple Street Biscuits is much more of a great breakfast or lunch place…but I am willing to go back anytime!