As we pulled into the parking lot, I could already smell the heavenly scent. I started to wonder how I had missed this place for all these years. Upon entering the store, I glanced at the cases filled with candies and baked goods. It was then that I started mentally kicking myself for not coming here decades earlier.
The reason I had finally come to Miller's Bakery sat on shelves across from the cases of baked goods, pickles. Yes, pickles. I had purchased a few jars from another Miller's, in southern Ohio. After some research on the Internet, I discovered that the pickles are made by some of their central Ohio relatives and sold at yet another relative's bakery in central Ohio…also called Miller's. I was in central Ohio on this trip and out of pickles, thus I made an early morning trip to buy pickles…and maybe a cookie.
I expected your average Amish country selection of baked goods, but what I found was so much more.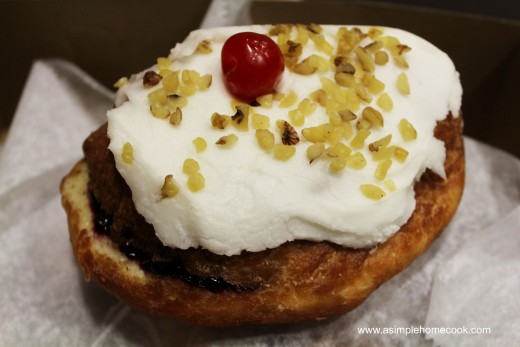 First, all of their baked goods and candies were huge! The cookies were the size of my lawn mower's tires…or maybe larger. Second, their selection of baked goods included different and unexpected items. For example, the blackberry filled doughnuts with white frosting and a cherry on top (pictured above) was not something I'd seen before.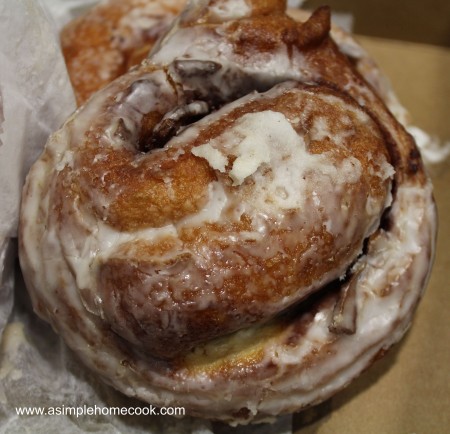 While apple fritters are very common in Amish and other bakeries, Miller's fritters had a different twist, literally. The fritter (pictured above) was rolled, like a cinnamon roll, with apple slices between the layers. The fritter had been thickly glazed after baking…or maybe they were fried.
Everything we purchased was wonderful! Everything was also too large for one person to eat in one sitting, so we split them between us and had the leftovers the next day. Okay, this is not the place to go to stick with your diet.
Moreover, the bakery itself was wonderful! The staff was friendly and the baked goods were fresh. They were still baking in the back….they had bread in the ovens.
It reminds me of the Amish Country of Ohio that I fondly remember. It is not fancy. It has not been recently redone to accommodate more tourists. It is still a family-run, small business that makes fantastic products and rents cabins to tourists.
Thus, it is with some trepidation that I recommend stopping by Miller's Bakery if your in the Millersburg/Charm area of Ohio's Amish Country. My fear is that if too many people discover Miller's it may change into yet another tourist-laden version of its former self…as has happened to some of my other favorite Amish Country places.
If you go, take cash. I am almost certain they do not take credit cards. If you want to save some cash, go early and buy the discounted baked goods from the day before. They are still very tasty.
Oh yes, I almost forgot…I did get my pickles and a couple of additional types of pickles as well. 🙂