After only one trip to Mitchell Delicatessen in East Nashville, TN I am hooked. There are so many things to like about it that I hardly know where to begin.
This place is not exactly on the tourist beaten path, which I think is a very good thing. It seems to emphasize quality and local ingredients, a fact that I believe is immediately obvious as soon as you enter the door of Mitchell Delicatessen.
Although you can buy meat and salads by the pound, we went there for the prepared sandwiches based on reviews and ratings that I read on Urbanspoon. It turns out that the weekday lunch crowd was full of local regulars some of whom were listing all the different things from the menu that they had tried and comparing what were their favorites.
My husband and I ended up trading half of our sandwich with each other. It was no contest; we liked mine the best. I got the Bahn Mi.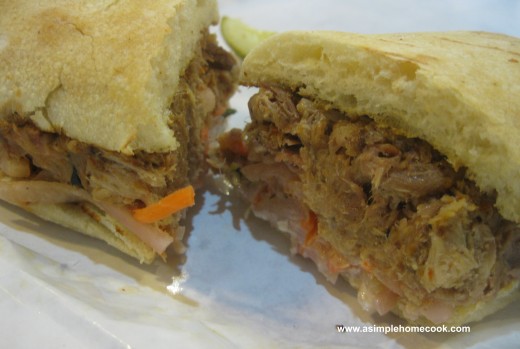 It was wonderful! The pork was moist and delicious. The jicama and carrots were nicely pickled and had just a little heat. Then, there is the bread…
Let's face it, a sandwich can only be as good as its bread. Great fillings in the middle of sub par bread means a sub par sandwich. Mitchell Delicatessen uses really good bread. The bread comes from Silkes Breads in Clarksville, TN.
My husband's Grilled Chicken and Portabello sandwich was also served on a hoagie roll. Don't get me wrong, it was a good sandwich. It was just a little bland when directly compared to the Bahn Mi. In fact, it was apparently the favorite of the man sitting next to me (he said he did not like the Bahn Mi…taste is very subjective).
Speaking of sitting….Mitchell Deli's seating is limited. There are a few tables outside in front, several inside, and a bar with several stools. However, we planned to take ours to our car until a couple of stools just happened to open up as we got our food.
To get your food, you stand in one line to place your order, another line to pay, and then wait for your name to be called. It sounds like it is time consuming and cumbersome, but the lines moved fast; it was orderly; and the food came out fairly fast.
I also really appreciated that the selection of drinks could all be found in my local Whole Foods store down to the same regional family dairy's milk. It was nice to see that their commitment to quality and localism extends to everything they offer.
My daughter opted for a pint of the milk to go with peanut butter sandwich from the children's menu. She liked the peanut butter sandwich, but said she wants to try the grilled cheese the next time.
I will probably order one of the sandwiches that has bacon on it. They serve Benton's bacon that is apparently very popular and looked very good. Maybe, I will just have my husband order one of the sandwiches with bacon and I'll order the Bahn Mi so we can trade again 🙂 Oh yeah…we plan to go back.