Mojo Burrito is a local Tex-Mex restaurant with three locations in the Chattanooga, Tennessee area. Mojo Burrito is akin to the chains like Chipotle and Moe's Southwest Grill, but much better, in my opinion.
The St. Elmo neighborhood location is my favorite. It's quirky decor is furthered by the addition of a rotating line of local artists work on display. It is also near tourist attractions including the Incline Railway, Rock City and others on Lookout Mountain.
The food is reasonably priced, fresh and tasty. They have specials everyday, but my favorite is their Friday special, Barbecue Nachos with Pineapple Salsa. Yum!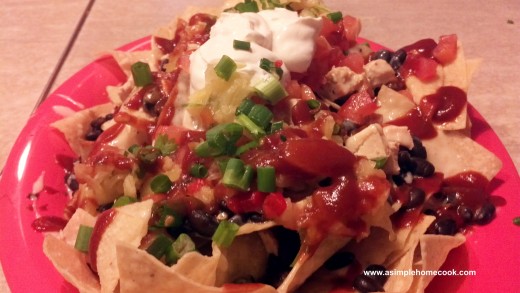 It is so large that I have to split it with someone else (it is on a platter, but you can't tell from the picture), thus it is also an excellent bargain at $10 including a drink. I usually don't get the hot peppers that can be included…it is made up in front of you, so you can choose to leave things off. I do recommend getting the bbq sauce and the pineapple salsa…they really make the dish.
Among my family's other favorites are the Mojo Burrito with chicken, Pappa Bear's Vegetarian Chili, and the Lily Bowl with black beans.
Although it is not an overly large location, there is seating outback in addition to the obvious seating out front and inside. Parking, on the other hand, is the apparent challenge that it looks like. There is parking on the street in front and up the street next to it. There is plenty of parking available in the public lot on the other side of the Incline railway, just down the street. Unfortunately, they recently turned it into yet another pay-to-park lot…currently $2 for the day.
There are two other locations in the area, Red Bank and East Brainerd. Both have free parking in an adjoining lot…but I honestly don't like them as much.
Worth a try if your in the area and like the cuisine type.