My mom loved potatoes.  In fact, she loved them almost as much as my sister.  My father and I ate potatoes, but we really did not have their love for potatoes.
My dad and I preferred mashed potatoes.  However, I also really liked my mom's buttered potatoes.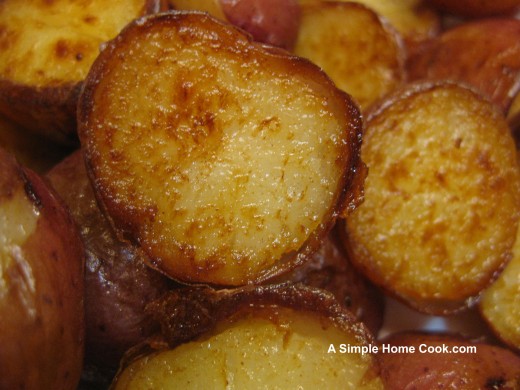 She would make them with whatever potatoes we grew in the garden or occasionally purchased at the store.  When I was young, that was rarely red potatoes.  Thus, my dish is a little different from my mom's.  However, this is basically her simple method for making buttered potatoes.

Recipe: Mom's Buttered Potatoes
Ingredients
1 lb.Potatoes
Water
2 Tbsp. Butter
Salt
Pepper
Instructions
Wash potatoes.
If they are small potatoes, you can leave the skins on and place in a pot of water whole.
If they are larger potatoes, peel and cut into large chunks before placing in pot of water.
Bring water with potatoes to a boil and cook until potatoes are tender.
Do not over cook though, you do not want them mushy.
Drain potatoes.
If using whole potatoes, cut them in half.
Place  butter in a skillet, add potatoes.
Coat potatoes with melted butter.
Place cut side of potatoes down on skillet if using skin on potatoes.
Cook until lightly browned.
Salt and pepper to taste before removing from skillet.
Quick Notes
Many varieties of potatoes will work for this.
Fresh parsley may be added after cooking.
To cook ahead, boil and refrigerate potatoes. Reheat in skillet adding butter as potatoes warming and follow rest of recipe.