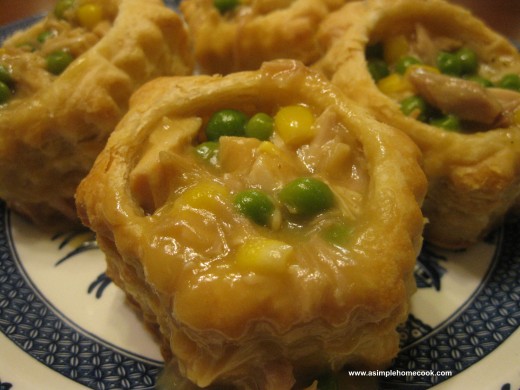 My mom always called this dish creamed turkey or chicken, depending on which protein she used.  It may also be called turkey or chicken a la king, but it does lack milk or cream that is traditionally found in chicken a la king.  Also, the only vegetable she used was usually peas.  Many of the a la king recipes call for mushrooms, peppers, or other veggies as well.
She would frequently make it after the holidays as a way of using up leftover turkey, but I remember it most from the massive amounts she made for our Girl Scout troop's  fundraising dinners.
She was one of the leaders (she spent more than 20 years in Girl Scouts as a leader for my little sister and me) when we spent two years raising money for a trip to England.  As part of that effort, we would host fundraising dinners at our church.  Because it was a low-cost, simplistic, hearty and comforting, the main dish at many of these dinners was Mom's "creamed turkey over biscuits."
Today, I like to make it with sliced mushrooms, in addition to the peas.  As my husband doesn't really like peas, I reduce the amount of peas and add corn.  It is a very flexible recipe that can include a variety of vegetables, differing amounts and types of poultry, and be served over biscuits/toast or in a puff pastry shell.