I think one of the most requested dishes of my mom for extended family holiday gatherings was her sweet potatoes (her minced meat pie was the other). It was also one of the messiest dishes to transport as the sauce had a tendency to spill out on some turn or hill as we went; however, Mom getting a Pyrex bowl with lid and carrier did help. Frankly, getting it to the gathering was the most complicated part of the dish. The recipe is simply a few ingredients, but the results are delicious.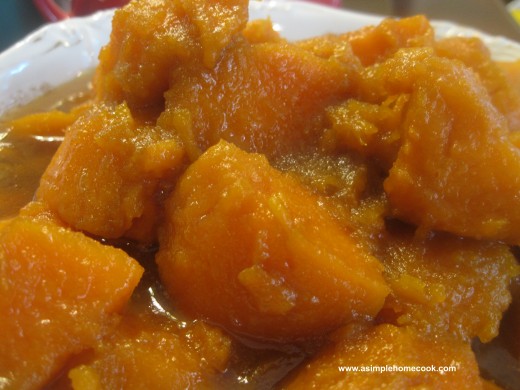 My mom usually used a mixture of orange and white sweet potatoes that my parent raised almost every year in their garden. My dad preferred the white sweet potatoes, which I rarely find in the grocery store or farm market. Thus, my sweet potatoes are usually all of an orange-flesh variety. The type you use doesn't really matter much…just try and use potatoes that are all about the same diameter so they cook more uniformly.
Of course, she never used a recipe and neither do we (my sister and I).  However, I have measured the last few times I have made glazed sweet potatoes to be able to share the recipe…or at least as accurate as I can get to it.
The amount of glaze you make is a personal preference.   Mom usually made relatively large amount to allow people to apply more glaze sauce/syrup after they mashed their potatoes on their plates.