My mom used to make jelly rolls for her parents at their request. My grandmother was a fantastic cook, so I think it says a lot about my mom's ability to make jelly rolls.
It is always a yummy treat.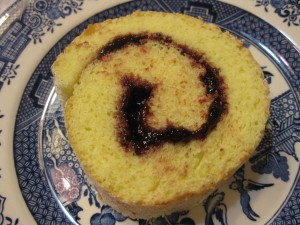 Recipe: Mom's Jelly Roll
Ingredients
5 eggs—separated
½ tsp. vanilla
¾ c. granulated sugar
¾ c. sifted cake flour
½ tsp. double action baking powder
¼ tsp. salt
Confectioner sugar
Tart jelly
Sweetened whipped cream, optional
Instructions
Separate eggs and yolks.

Combine yolks and extract in large bowl; beat well.
Gradually beat sugar into yolks until light and fluffy.

Sift together flour, baking powder and salt and add to egg yolks.
Beat whites stiff but not dry; fold gently into egg mixture.

Spread batter into 10X15 jelly roll pan greased,lined with wax paper and greased again.
Bake in moderate oven of 350 degrees for 15 minutes or until done.

Invert over linen towel dusted with confectioner sugar.

Remove wax paper.

Roll narrow edge of cake by lifting a pushing gently with towel.
Wrap cloth tightly around roll; cool on rack for about 10 minutes with open edge of cake turned down.

Unroll cake spread with jelly, re-roll, and dust with confectioner sugar.
Quick Notes
Use enough sugar on towel to cover it well before turning roll out of jelly roll pan.
Place roll on cooling rack rather quickly or browned part may stick to towel.
Variations
I prefer to use a lot of seedless black raspberry jelly or seedless blackberry jelly.
Amount and type of jelly depends on personal preferences.