Celebrating nature and the past is very easy to do atop Lookout Mountain around Mentone, Alabama. Much of the town (and much of the area around it) feels like a step back in time and the Moonlight Bistro is no exception.
The older log cabin building sits along Alabama-117 with parking in the back. Upon entering, I was transported back to my uncle's cabin along a lake by the smell of the old wood and other furnishings. There were only a few other people in the restaurant. We received a friendly greeting and were seated promptly.
I must admit that my resolve about our choice on a Sunday afternoon began to waver as I looked at torn and tattered booth seats. It further wavered when we went to order and they were out of the two dishes my daughter and husband wanted. My choice was based on what another couple in the restaurant had just received before I placed my order…a cheeseburger.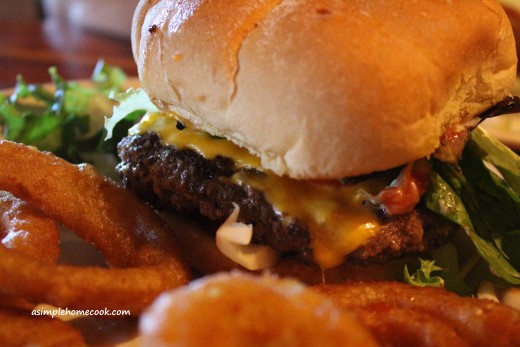 When it arrived all, I instantly understood why the couple had split their order…it was HUGE. After one bite, I no longer wavered on our restaurant selection; it was extremely delicious. It was not the standard frozen hamburger patty with substandard toppings on a low quality bun that I expected to get…even at more than $8 for it and the side. It was a freshly made, juicy patty with fresh quality toppings on a nice bun. Even the onion rings were above average. My husband ordered the same. He really enjoyed his as well. Unlike me, he ate all of his. I was only able to eat half of mine.
My daughter ended up ordering the grilled cheese sandwich from the kid's menu. She was not thrilled with the whole experience including the grilled cheese. I tasted the grilled cheese and thought it was fine…our hamburgers were much better. However, even she remarked at how they had very clean bathrooms. I think she would have been happy if they had not been out of the macaroni and cheese she wanted.
Do I plan to go back? Yes. I think Moonlight Bistro may have the best burger on Lookout Mountain.