I read that the first Friday in June is National Doughnut Day. In honor of that, I thought I would share some of my favorite doughnut shops and a couple of doughnut recipes over the next few posts. Thus, it seems appropriate to start at the beginning…my hometown.
When I was very young, there was a wonderful little bakery a few blocks from my house. I remember going there with my mother or grandmother and selecting one item I wanted while they picked up a few doughnuts and cream horns (probably just for my dad). I think I must have always selected the same thing – a giant gingerbread man cookie. I was not interested in the doughnuts. (Although, I do remembering eating all of the cream out of the cream horns 🙂 ).
The little bakery closed. My dad bought the occasional doughnut at a diner. There was the occasional dozen purchased when they had to take me for a doctor's appointment in Charleston, WV (they had a Mister Donuts there). My parents bought Morton's Jelly Filled Doughnuts and baked them at home. . . Life was pretty grim until they discovered a doughnut shop in town was under new owners and a new name, JR's Donut Castle. With that discovery, there was a joy restored in our home that disappeared when the first little bakery closed.
I have already written an article on my favorite JR's product, pepperoni rolls. However, their doughnuts are beyond fantastic as well.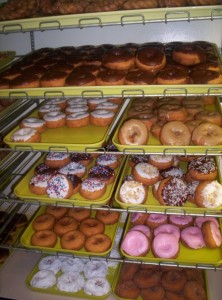 (Picture Courtesy of JR's Donut Castle)
The success of the shop is great tasting baked goods made at the store daily. To me, doughnuts are not good unless they are fresh. JR's have fresh doughnuts.
Among my favorites are maple cream sticks, blueberry, sour cream, lemon filled, and Bavarian cream filled doughnuts. Yum….I wish I did not live so far away…
JR's Donut Castle is located on Emerson Avenue in Parkersburg, WV. They are definitely worth a stop if you are in the area. In fact, they are worth a drive if you are even nearby.
PS: Both Doughnut and Donut are correct spellings in American English. It is just a matter of preference.