How does someone who does not live in Cincinnati end up recommending the Po' Boys from a food truck in the Ohio city's downtown? The simple answer is because of my brother-in-law.
He has raved about the terrific food served by the New Orleans To Go since he first ate it. He has even managed to get people to brave the downtown construction zones and traffic during lunch hours just to try their food…including me.
It turns out he was right (don't tell him I said so); it was worth the trip to have their shrimp Po' Boy.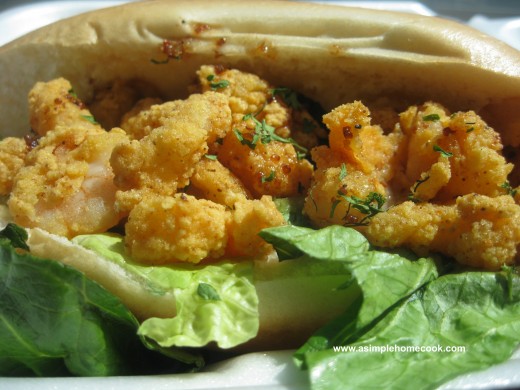 The shrimp tasted like quality shrimp that was expertly cooked with a fair amount of spice even without the sweet and sour glaze on it. I can't say for certain that the shrimp was freshly breaded, but I would stake a bet on it (if I did that kind of thing). It made a great sandwich.
The sandwich was so large and loaded with shrimp that I did eat my Zapp's chips until later. If you aren't familiar with Zapp's potato chips, they are a popular brand out of Louisiana. The chips just add to the authentic experience of this food truck owned by someone from New Orleans.
It was so good that I am willing to fight the traffic and construction where ever they are in the Cincinnati area to eat their food again. (To find them you can follow them on Twitter or Facebook through their website.) However, I am very excited that I won't have to as they are opening of New Orleans to Go's Bistro at a permanent location.
Now, I just need to visit my sister….