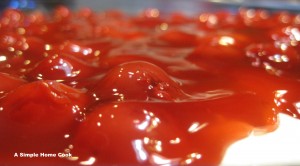 This was a no-bake cheesecake my aunt made in the 1970's and gave me the recipe.  It was one of my favorites.  It is the first "cheese cake" I had ever had.
My daughter LOVES cheesecake and was super excited I would make her one – even though it does not look or taste like what she is used to eating (we just buy a baked cheesecake slice as dessert on a special occasion at a restaurant).
Recipe: Nora's Cherry Cheesecake
Ingredients
Crust: 2 c. graham cracker crumbs
2 tbps. sugar
1 stick oleo
Filling: 8 oz. cream cheese
1 c. sugar
2 pkgs. Dream Whip
2 cans cherry pie filling
Instructions
Crust:  Ingredients should be at room temperature.
Mix crumbs, sugar, and oleo.
Divide and press mixture into bottom of two 9″ pie plates or use all in one 13 X 9 pan.
Refrigerate.
Filling:  Mix cream cheese until smooth.
Add sugar and mix well.
Mix 2 packages of Dream Whip according to directions on box.
Fold whip into the cream cheese mixture and pour into graham cracker crust.
Top with cherry pie filling.
Chill
Variations
You can use pre-made graham cracker pie crusts instead. You can use only one can of filling if you do not want as much on top.