I am the first to admit that I am spoiled. After eating Woody's Crab House crab cakes over the years, I find that I am intolerant of the crab cakes that most places serve. I understand that there are other places in the Baltimore region that make their crab cakes in a similar manner to Woody's (Baltimore-style apparently), but I have never eaten in any of those establishments.
Woody's does ship their crab cakes,  but I find that the shipping cost is too prohibitive for me any more even for special occasions. Rather than just getting them the few times a year we visit my in-laws who live nearby, I decided to try my hand at making my own.  It turns out that not only were they simple to make, they were wonderful!  Yes, I think they were as good as Woody's.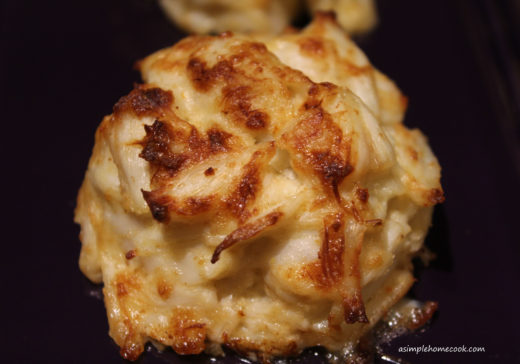 What makes these crab cakes different from the many Maryland-style crab cakes found on menus and grocery/seafood stores in many parts of the U.S.?  They are almost totally lump crab meat with just bit of binder and seasoning.  The natural flavor of the crab meat shines through and is only enhanced by the other ingredients.
To come up with a recipe, I looked at the new Old Bay and the Classic Old Bay seasoning recipes plus a recipe in a collection cookbook from Delaware as a starting point.  Then, I just went with my gut about what to include and how much.  I was lucky and it turned out better than imagined it could.
North East Maryland-Style Crab Cakes
Ingredients
16 oz. lump crab meat
1 1/2 Tbsp. plain bread crumbs
1 large egg
3 Tbsp. mayonnaise
1/4 tsp. ground mustard
1/4 to 1/2 tsp. Old Bay Seasoning (to taste)
1 tsp. Worcestershire sauce
1 - 2 Tbsp. unsalted butter
1 lemon (optional)
tartar sauce (optional)
Instructions
Place crab meat in a bowl, checking to make sure there is no cartilage, etc. and sprinkle in bread crumbs.
In another bowl, whisk egg until well beaten and light color.
Whisk in mayonnaise, mustard, Old Bay, and Worcestershire sauce.
Pour egg/mayo mixture over crab and gently fold ingredients together without breaking up crab too much. (Using your hands seem to work best).
Let mixture sit in bowl a few minutes.
Preheat broiler to low.
Form into 6 patties/balls and place on a foil lined baking sheet.
Place in the refrigerator for an hour or into the freezer for 10 to 15 minutes. (I use the freezer).
Place a dab of butter atop each patty.
Broil for 10 minutes until browned on top and heated through.
Serve with a squeeze of lemon and/or tartar sauce, if desired.
Notes
The recipe calls for these crab cakes to be broiled, but they can be fried instead. Just place in fry pan with canola oil and butter after chilling the cakes until firm.
https://www.asimplehomecook.com/north-east-maryland-style-crab-cakes/
2017