The only place I have ever had Oatmeal Pie is in the Amish Country of Ohio. I read that it is/was popular in the southern United States as well. However, I have never found it on a menu since moving to the South more than six years ago.
It does remind me of pecan pie, but what I have eaten had a little different flavor profile. After looking at several versions when researching this article, I found several that seem identical to a corn syrup based pecan pie except they simply substituted oatmeal for pecans.
Oatmeal pie is a great alternative to pecan pie. First, oatmeal is much cheaper than pecans. Second, it also has nutritional value including fiber. Finally, it has a very similar texture and sort of similar flavor.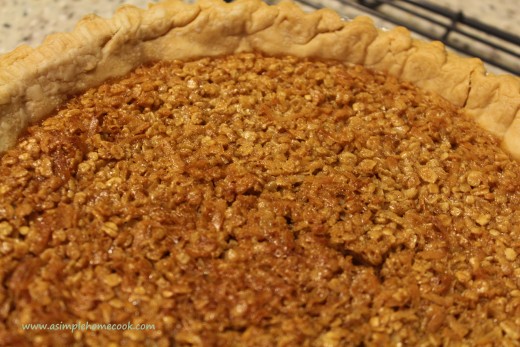 For this recipe, I used the proportions from a single pie recipe I found and the ingredients from one of my favorite Amish Country restaurant's recipes that made four to five pies.
It turned out great! It tasted just like the restaurant pie…just there was only one. 🙂