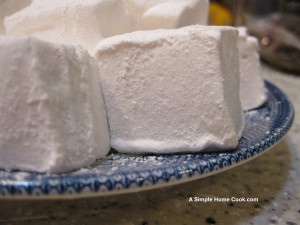 I remember hearing Martha Stewart tell her viewers more than once that they had to make their own marshmallows. She said they were much better than store bought marshmallows.
When I heard her, I would never have believed that I would actually make my own marshmallows. Lately, I started thinking about how much my daughter likes marshmallows and decided to give it a try.
They turned out smooth and very tasty.
I used Martha Stewart's recipe, of course. I did make one change that I think I would not repeat. I sprayed the pan and parchment paper with non-stick cooking spray instead of brushing with oil. Next time, I will either brush with oil or do something else.
I decided to make a special treat, old-fashioned hot cocoa. No, not like I remember my mom making. Instead I made it like my husband remembers. (Too bad his milk allergy prevented him from partaking).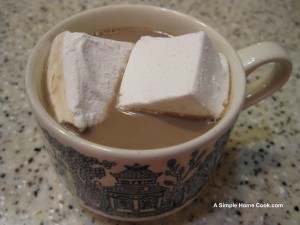 I used the Hershey Cocoa recipe from the side of the can…er…box. I wish it still came in a metal can instead of its newer package.
I did make a small modification. I used 1 c. whipping cream and 3 c. milk instead of 4 c. milk. We use fat free milk, so I decided to make it creamier. I had whipping cream on hand.
I am not a huge hot cocoa/chocolate fan, but even I thought it was very good 🙂
It just hit the spot on such a cold and snowy day.