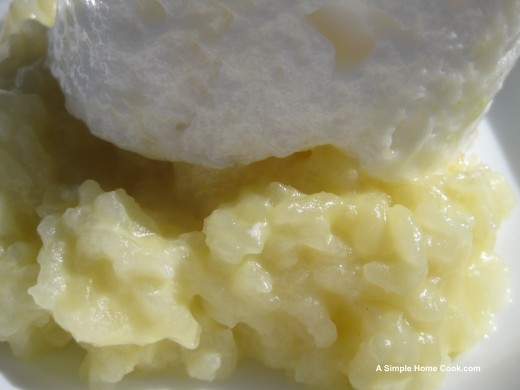 Every Easter my mom would make rice pudding. If My mom did not make it to have for dessert, she made it for Easter breakfast….it was a great breakfast 🙂
It was not the rice pudding with raisins, cinnamon, etc. It was a lemony delight that was covered in meringue and baked until the meringue was a golden brown.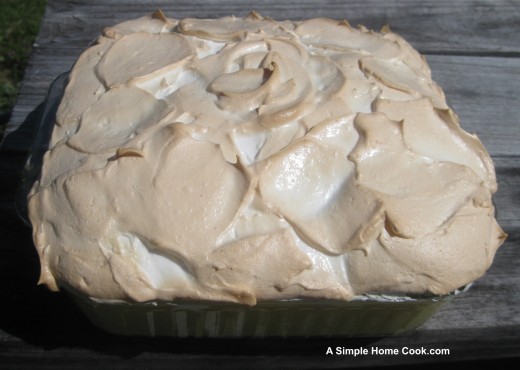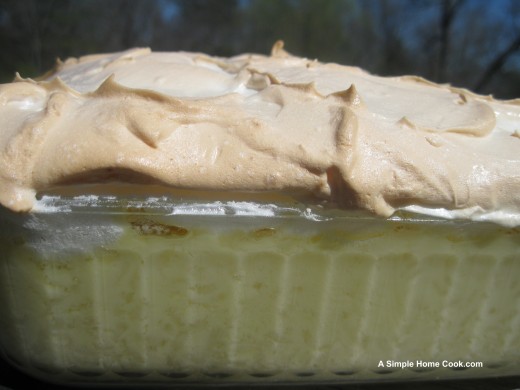 Today, my little sister and I have carried on the family tradition with our families. Plus, just like Mom, we also make it at other times of the year as well.
Although many types of rice work in this pudding (long, short, medium grains), I did try and make it recently using an organic short grain red rice. The rice still had its bran (good for you) and that changed the texture of the pudding. This was not the problem I discovered (the hard way) was the water needed to cook this particular rice was only 1 1/2 cups per 1 cup of rice. All of the rices I had used in the past (and those my mom used) required 2 cups of water per 1 cup of rice to cook. I should have reduced the amount of water I used. Instead, I made rice pudding soup 🙁
My takeaway from this: always read the cooking directions for the rice you are using and adjust water accordingly.
My other tip from lessons learned the hard way is to invest in a decent citrus grater or microplane. I waste so much less lemon and time now that I finally bought myself a microplane. This is the one I have and really like:

It has been $15 well spent!
Recipe: Old Fashioned Rice Pudding
Ingredients
1 c. rice
1 pt. water
1/2 + tsp. salt
1 pt. milk
1 tbsp. butter
2 c. sugar
4 eggs, yolks and whites separated
1/4 tsp.  cream of tartar
1/2 c. sugar, extra fine
Instructions
Bring water and salt to a boil.
Add rice and cook until tender—DO NOT DRAIN.
Add milk or half-and-half, butter and sugar.
Beat egg yolks.
Add small amount of hot rice mixture liquid to yolks so they won't curdle.
Stir tempered eggs into rice mixture.
Add the grated rind of a lemon and juice.
Cook for 10 minutes and pour into a baking dish. The pudding will not be thick at this time.
Beat the egg whites and cream of tartar for a meringue.
Slowly add sugar and continue to beat until stiff peaks form.
Carefully place the meringue in dollops to cover pudding in baking dish. Use a spatula or rubber scrapper to carefully spread meringue to baking dish sides. Meringue should meet the sides of the dish so it will not shrink as much when baking.
Bake in a preheated 350 degree oven until it is nicely browned.
Allow to cool down to warm before serving.  Pudding will thicken as it cools.
Refrigerate leftovers.
May be served warm or cold.
Quick Notes
The only salt in the dish is in the water used to cook the rice. Salt accordingly to taste. The rice will be very bland if salt is not used…more than 1/2 tsp. may be needed.
Taste rice prior to adding rest of ingredients to make sure it is properly salted before moving on.
This recipe was written for rice requiring 2 cups of water to cook 1 cup of rice normally. Read the cooking directions on your rice and adjust water amount accordingly.