My paternal grandmother used to make oxtail soup.  When I was 6 or 7 years old I remember thinking that her "oxtail soup"  must be just another name for beef  vegetable soup because no one had oxen anymore.  Afterall, I had seen old pictures of my maternal grandfather with his oxen pulling trees that had been cut for lumber; they were for work not food; plus he died years (3) before I was born.  Besides, no one really put a tail in soup.  Again, I was 6 or 7 so I was full of ….knowledge.
It turns out that my grandmother's oxtail soup was indeed made with pieces of tail…beef steer tail a.k.a. oxtail.
The oxtail's combination of cartilage, fat, bone, and meat makes a rich, flavorful broth for the soup.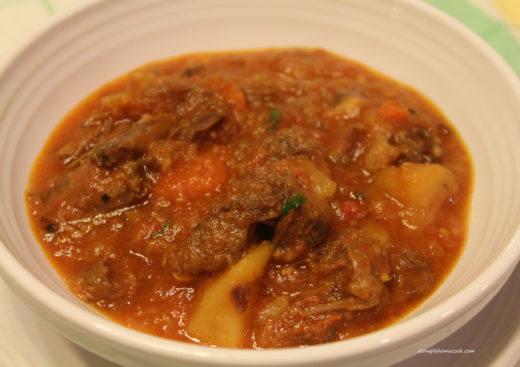 Oxtail soup was popular in the Depression Era because of the low cost of the oxtails and other ingredients.  The irony is that oxtail is no longer a throw away.  When you can find it in a grocery store, it is usually a specialty or natural food store.  Its popularity, and probably the fact that there is only one per steer, has increased its price per pound compared to the costs of other cuts of beef.  It is still a cheaper cut, just not as cheap.
Much of the oxtail I purchased had relatively little meat, so I decided to add a couple of beef shanks to the oxtail to make about 3 lbs. total.  Other than just having more meat and similar cooking times, the beef shank was also a dollar less per pound.  However, do not use too many beef shanks…unless you plan to make beef shank stew.  The broth you get will the oxtails is not the same as using just shanks…you need the majority of the cuts to be oxtail.
This is a VERY flexible recipe when it comes to the vegetable ingredients.  Although I used tomatoes in the batch pictured above, I actually like it better when I only use tomato paste.  The paste adds a brightness that is needed against the richness of the broth, meat, etc., but any additional tomatoes is just a matter of personal taste.  Parsnips, turnips, rutabaga, and other root vegetables all work well in the soup…it is just a matter of personal preference or whatever you have on hand.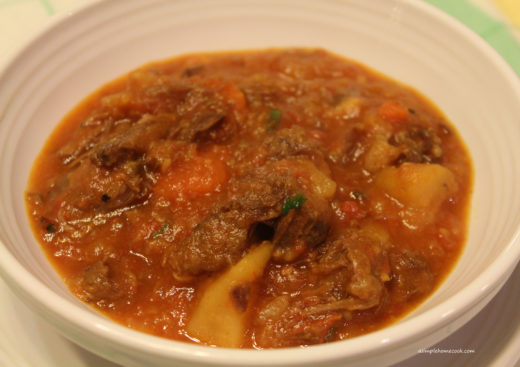 Ingredients
3 lbs. +/- larger oxtails or a combination of oxtails and beef shank
1/4 c. + flour
6 Tbsp. oil (canola or other neutral oil)
water
1 clove garlic, grated
1 tbsp. concentrated tomato paste
1/2 c. Marsala or another fortified/red wine (optional)
32 oz. beef stock or broth
1 1/2 tsp. salt
2 bay leaves (fresh or dried)
3 sprigs thyme (fresh or dried)
6 whole cloves
1/2 tsp. white pepper (or black pepper)
1 med. onion, quartered
2 med. to lg. potatoes (Yukon Gold, etc.), cubed
3 med. carrots, peeled and chopped into 2 inch pieces
1/2 c. celery stalks, chopped
2 med. parsnips (optional)
28 oz. diced tomatoes or tomato puree (optional)
1 Tbsp. brown sugar (optional)
1/4 c. parsley, chopped
Instructions
Remove excess fat from oxtail.
Lightly coat oxtail (and beef shank, if using) pieces with a mixture of the flour and !/2 tsp. salt.
Pour 4 Tbsp. oil in a large heavy bottomed kettle/Dutch oven and place over medium heat.
Once oil is heated, add oxtail and brown on all sides. Keep on low-medium heat while browning. It will probably take 15 to 20 minutes to complete.
Once browned, add 2 cups of water, increase heat to high and bring to a boil. Once it boils, reduce heat, cover, and simmer.
Remove grayish material from on top of simmering liquid as able.
After one hour, remove oxtails to a dish.
Strain liquid into a bowl or a dish that can be placed in the refrigerator or freezer. Allow to cool at room temperature then move to the refrigerator or freezer to cool further until the fat separates to the surface and solidifies.
Remove excess fat.
Meanwhile, in the same large kettle or Dutch oven used earlier, add 2 Tbsp. oil over medium-high heat.
When oil is heated, add garlic, stirring constantly, then add tomato paste.
Allow the paste to cook for a minute or two before adding wine and beef stock.
Season with salt and pepper. Add bay leaves, thyme, and cloves either wrapped in a piece of cheesecloth tied with kitchen twine or loose if able to remove sprigs, leaves, and cloves individually later.
Add back the oxtail and bring to a boil.
Reduce heat and simmer, covered, for another 1 1/2 to 2 hours, until the meat is tender.
Add back the broth from earlier once the fat has been removed.
Add the onions, potatoes, carrots, celery, parsnips (if using), tomatoes (if using) and brown sugar (if using tomatoes) and any other vegetables you decide to use to the kettle.
Cover and simmer 30 - 45 minutes longer until the vegetables are tender and the meat is VERY tender.
Remove oxtails and place in or on a dish to cool enough to handle.
Once cool enough, remove meat from bones. Remove any excess fat, etc. and place just the edible meat back into the simmering soup.
Remove bay leaves, thyme sprigs, and all cloves.
Add parsley.
Taste and add more salt and pepper as needed.
Serve warm.
https://www.asimplehomecook.com/oxtail-soup-or-stew/
2017
Wait…what about the stew?  Well, the name oxtail stew is used interchangeably with this type of recipe.  It cooks for hours and is rather thick, especially if you add tomatoes.  You can thicken it more by adding a slurry made of 1 part corn starch to 4 parts of water during the last 20 minutes of cooking.