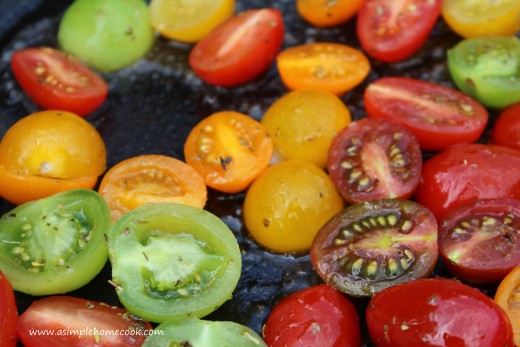 It is amazing that something so simple like using a cast-iron skillet on your grill can change what you cook so much. This relatively inexpensive, naturally non-stick skillet can expand what you cook and how you cook on the grill. For example, some people prefer to cook hamburgers in a skillet on the grill to have the sear of a pan while still having the smokey flavor of the grill. It is also is great for grilling foods that are too small and or delicate to cook easily on the grill like fish or tomatoes.
I think grilling small tomatoes in a skillet also results in a different flavor than if you grill them on skewers. While they still have the smokey flavors, they seem to retain more of the seasoning and have a different texture than those on a skewer. I personally like them better.
This same method can be used on a stove top; it will just not have the smokiness of the grill.
The pan roasted tomatoes can be eaten by themselves as a side, added to a pasta dish, placed atop a pizza or flat bread, and more.
Pan Roasted Tomatoes on the Grill
Ingredients
1 pt. small tomatoes (small, cherry, grape, etc.
1 +/- Tbsp. olive oil
1 +/- tsp. Italian seasoning, dried basil, or herbs de Province
salt, to taste
pepper, to taste
Instructions
Cut tomatoes in half. (If they are very small, leave them whole) and place in a bowl.
Add just enough oil to coat all of the tomatoes.
Gently stir in herb seasoning, salt, and pepper to taste.
Place cast iron skillet on a med. grill (over the coals).
Once skillet is heated, add a single layer of tomatoes.
Stir/turn frequently until desired tenderness and color is achieved, usually about 5 minutes or so.
Notes
Covering the grill between stirring/turning the tomatoes will increase the smoky flavor.
Serve as is, in a pasta dish, on pizza or flat bread, atop bruschetta, etc.
https://www.asimplehomecook.com/pan-roasted-tomatoes-on-the-grill/
2017