We had a little trepidation about eating Greek/Middle Eastern food so soon after a bad experience at one of our favorite local Middle Eastern restaurants, but we decided to risk it. After all, we do not get to Huntsville that often. Besides, we were there and we had not eaten lunch and it was getting late.
We ordered gyros. Yes, we could have chosen any of the many items on their menu, but in a place called Papa Gyro we figured the gyros should be good.
My husband ordered the gyro plate. He had a generous helping of classic gyro meat, rice, a Greek salad and pita slices. He enjoyed his entire dish.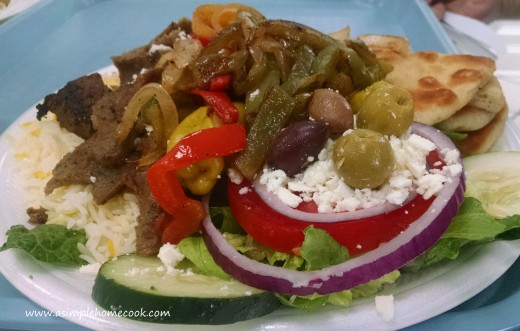 I ordered the Big Papa Gyro.  The menu sign said that it was the "Home of the Big Papa Gyro," so I thought I should at least try it.  It was a pita wrap filled with classic gyro meat and lettuce, tomato, onion, and feta cheese.   It was a very large sandwich for just under seven dollars.  It was also very yummy.
My daughter did not have a gyro. In fact, I can't remember what she ordered to eat.  I do know that she had a mango shake that she really enjoyed.  She liked it so much that she insisted I try a sip; I had to agree that it was very good.
We found Papa Gyro to be a reasonably priced restaurant in a shopping center offering very good food in a quick-service/casual atmosphere.  In other words, we expect that we will eat there again 🙂