My dad loved peanut butter almost as much as he loved candy. He would only eat creamy Jif peanut butter and he ate a lot of it. In fact, he consumed so much that I was in college before I realized that the oil could separate from the peanut butter and that eventually it could go bad.
My dad would eat peanut butter by the spoonful straight from the jar or on toast. Toast was another of my dad's favorite things. Although he frequently ate just peanut butter on his toast, he often added another toppings as well.
He would often top the peanut butter with a layer (a rather thick layer at that) of brown sugar. This is one of my favorite ways to eat toast as well. Although, my layer of brown sugar is much smaller than what my dad typically added…I can't believe he was such a skinny man even with all of the walking he did.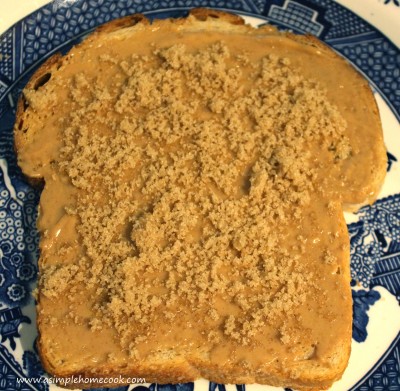 My dad would also add eggs to the top of his peanut butter toast. This was when he had scrambled eggs, but his "sunny-side-up" was known to end up on top of peanut butter toast as well. This is one of my sister's favorite ways to eat toast as well. She has passed this method along to my daughter (who now prefers her scrambled eggs on peanut butter toast).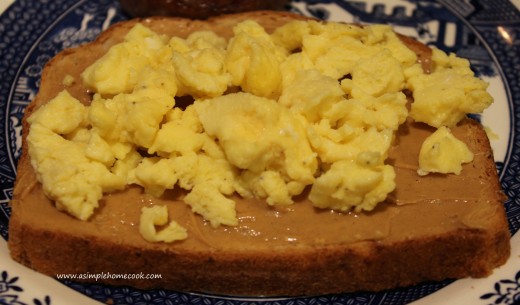 Although those are the only toppings on peanut butter toast I really remember my dad really liking, there are many other toppings that work well on peanut butter toast.
Classic toppings include marshmallow whip and the Elvis inspired banana and honey.
Some other ideas include cinnamon and granulated sugar, thin slices of apple, jelly, sliced strawberries, mini chocolate chips, bacon, cinnamon and brown sugar, a drizzle of maple syrup, and black berries.
No matter if you choose to top your peanut butter toast or leave it plain just be sure to spread the peanut butter on the toast while the toast is still hot. There is something wonderful about the smell of peanut butter melting into the warm toast.
Enjoy!