One of the many breads my mom would make to give to family and friends at Christmas was pineapple bread. This was one of two quick breads that she would make only at the holidays; the other one was eggnog bread. Unlike eggnog bread, this bread is really an anytime of the year quick bread.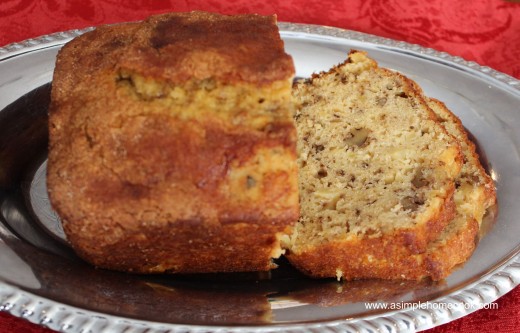 Pineapple bread is a more tangy cousin to banana bread. In fact, they are very complimentary options to serve together.
This moist bread is great served warm with a little butter, but is still very good when served at room temperature.
While it can be frozen, it does not freeze as well as banana, zucchini and some other quick breads, thus I don't recommend freezing it after baking. The main issue is the crusty cinnamon and sugar top looses its crunch.
This recipe uses about a half a can of crushed pineapple making it the perfect complimentary recipe to the Pineapple Casserole Recipe, which uses the other half a can + a whole can of crushed pineapple. 🙂