I ran across a recipe in myThe Blue Willow Inn Cookbook: Discover Why the Best Small-Town Restaurant in the South is in Social Circle, Georgia
cookbook for pineapple casserole.  I had never heard of pineapple casserole before reading this recipe, but I was intrigued…especially since I just purchased a dozen cans of pineapple on sale and I had a potluck dinner the next day. However, there were a few key points missing for the recipe I found…like what kind of cheese used in it for one thing.  Although I did not find the same recipe on the Internet, I did find that most of the recipes used cheddar cheese.  I was able to use some common sense to create the rest of the recipe.
The resulting simple, but rather rich, casserole was delicious!  It is sweet and savory combination that really works. . . I had my doubts despite my initial curiosity.
Before the oven: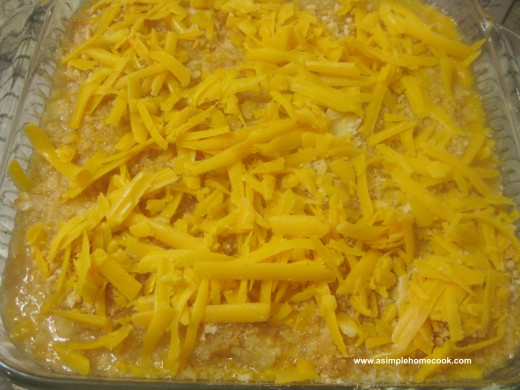 This may indeed be one of those rare dishes that I serve for both Christmas and Easter, as it will go great with ham.   In fact, other than ham, I can't think of anything I make for both the fall/winter holidays and the spring holiday.  This dish will indeed be an exception for me; however, that is not uncommon here in the southern United States as deviled eggs are commonly found on the Thanksgiving table! (Yes, I do find that odd).    I think it would be great with the turkey at Thanksgiving as well, but I am traveling instead of cooking this year 🙂