My great-aunt Libby had a few foods that she was known for and did exceptionally well.  This is one of those foods…Pineapple Fruit and Nut cookies.   My mom made them every year after she was given the recipe by Aunt Libby.  They were some of the many cookies and other sweet treats that my mom made every Christmas season mainly to give the majority away, although she always made sure my sweet tooth dad and her children had plenty. 🙂  My sister says that these were her favorite.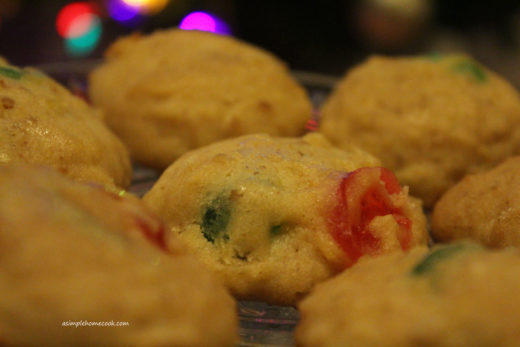 Unlike many of the other cookies, these drop cookies are easy to make and take very little time to make and bake.   Using a cookie (ice cream) scoop is one of the biggest time savers; it also means the cookies are much more uniform in size helping them to be uniformly baked and nicer looking than the old method using teaspoons.
Pineapple Fruit and Nut Cookies
Ingredients
1 c. granulated sugar
1 c. shortening
1 c. brown sugar
2 cans crushed pineapple, drained
2 eggs
1 tsp. vanilla
4 c. flour
1/2 tsp. salt
1 tsp. baking soda
1 c. nuts, finely chopped
1/2 c. red cherries, halved
1/2 c. green cherries, halved
Instructions
Preheat oven to 375 degrees F.
Cream the sugars and shortening together in a large bowl or mixer bowl until incorporated and fluffy.
Blend in pineapple, eggs, and vanilla.
In a separate container, sift together flour, salt and baking soda.
With mixer on low, add 1/4 of the flour mixture until it is mostly incorporated then continue adding the flour mixture in 1/4 increments, scraping down the sides and blades as needed.
Turn up mixer speed and mix until the ingredients are uniformly incorporated.
Blend in nuts and cherries into the dough until they are evenly distributed.
Drop by rounded teaspoon or small (ie. # 50) to medium scoop(ie. #40) onto a parchment lined or ungreased baking sheet.
Bake for approximately 10 minutes until a very light golden color and the dough is set.
Place cookies on a cooling rack upon removal from oven.
The cookies are a cake-like in texture and the exterior of the cookies are a similar softness as the interior once they are stored in an air-tight container.
Keep in a cooler, dry place.
https://www.asimplehomecook.com/pineapple-fruit-and-nut-cookies/
2017